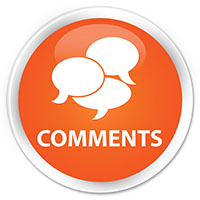 Guest Comments - Testimonial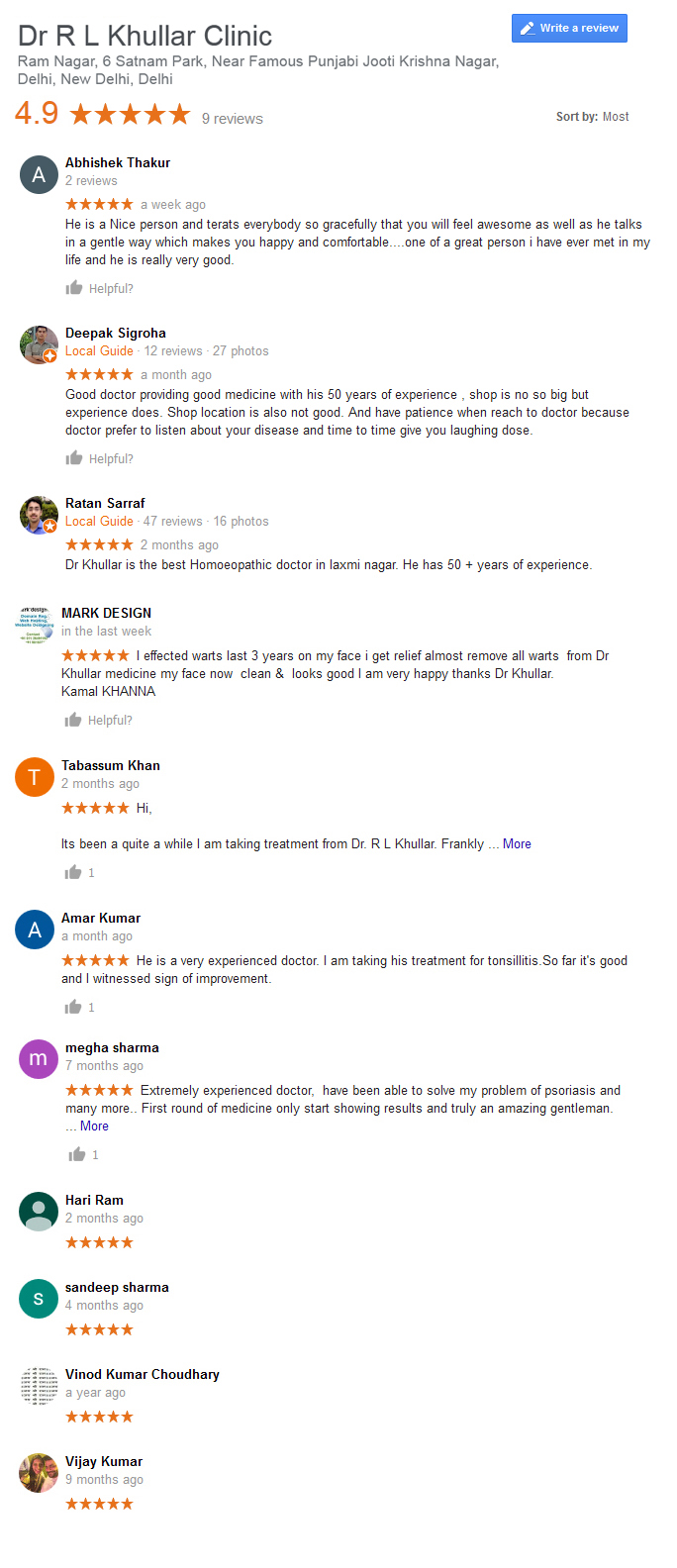 | | | | | |
| --- | --- | --- | --- | --- |
| 27.09.2017 | Veer Dala | Sec 9, H.No. 1101 Bahadurgarh | 9991999008 | I was suffering from genital warts All the warts were removed and cured with medicine provided by Dr. R.L. Khullar |
| 27.09.2017 | Reema Sharma | 10/504, Eastend apartments, Mayur Vihar 2, Delhi-76 | 98990365187 | My daughter in law suffered from nails disease. She was advised by allopathy for surgery. But she was cured from fungal disease of nails with Dr. R.L.Khullar's treatment. |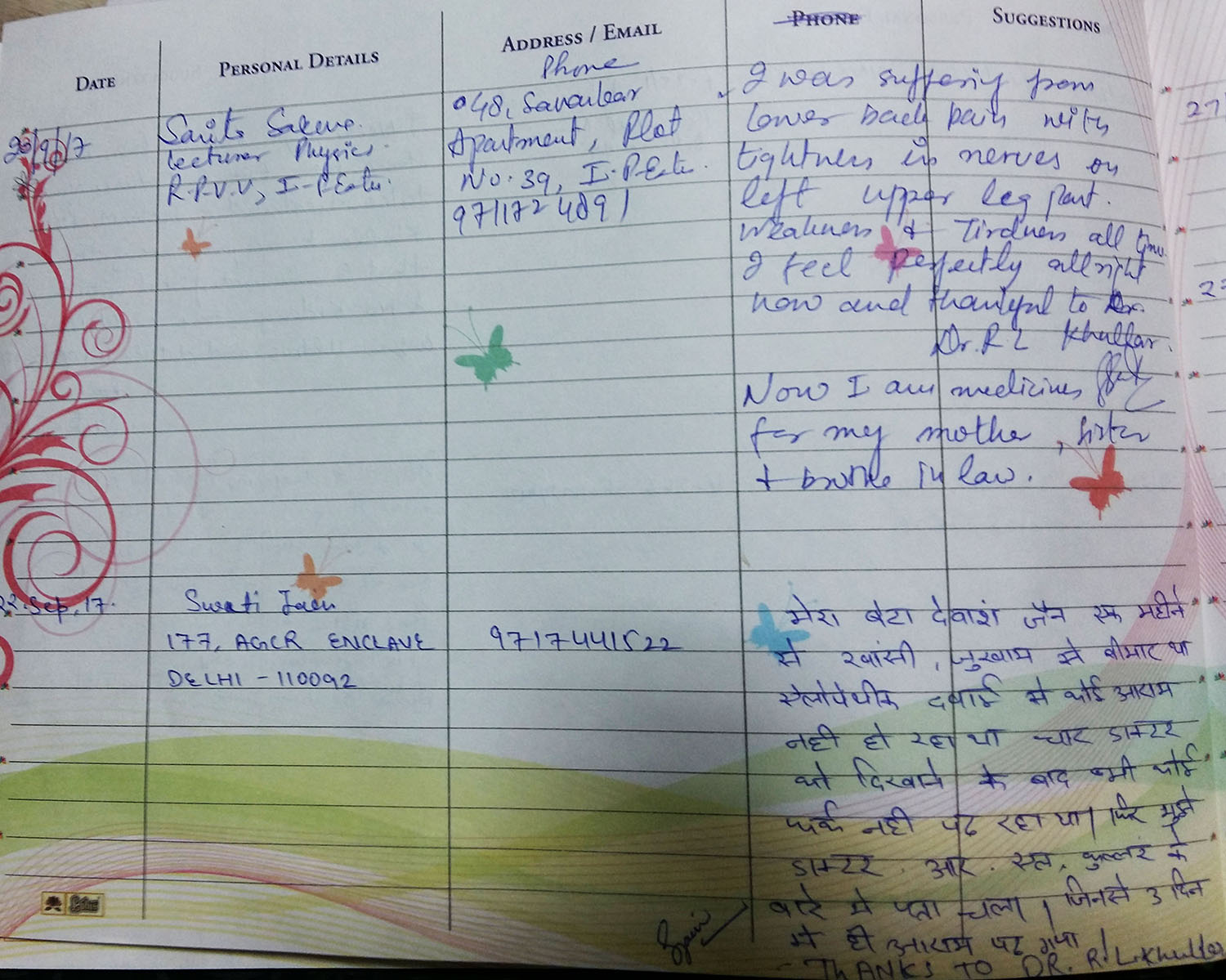 | | | | | |
| --- | --- | --- | --- | --- |
| 20.09.2017 | Sarita Lecturer Physics R.P.V.V, I.P. Estate | 048, Savarkar Apartment, Plot No. 39, I.P. Estate. | 9717124891 | I was suffering from lower back pain with tightness in nerves on left upper leg part. Weakness and tiredness all time. I feel perfectly all right now and thankful to Dr. R.L. Khullar. Now I have medicines fro my mother, sister and brother-in-law |
| 22.09.2017 | Swati Jain | 177, Agir Enclave, Delhi-110092 | 9717441522 | मेरा बेटा देवांश जैन एक महीने से खांसी, जुकाम से बीमार था एलोपैथिक दवाई से कोई आराम नहीं हो रहा था चार डॉ को दिखने के बाद भी कोई फर्क नहीं पढ़ रहा था फिर मुझे डॉ आर एल खुल्लर के बारे मैं पता चल जिससे 3 दिन मैं ही आराम पढ़ गया thanks to Dr. Khullar |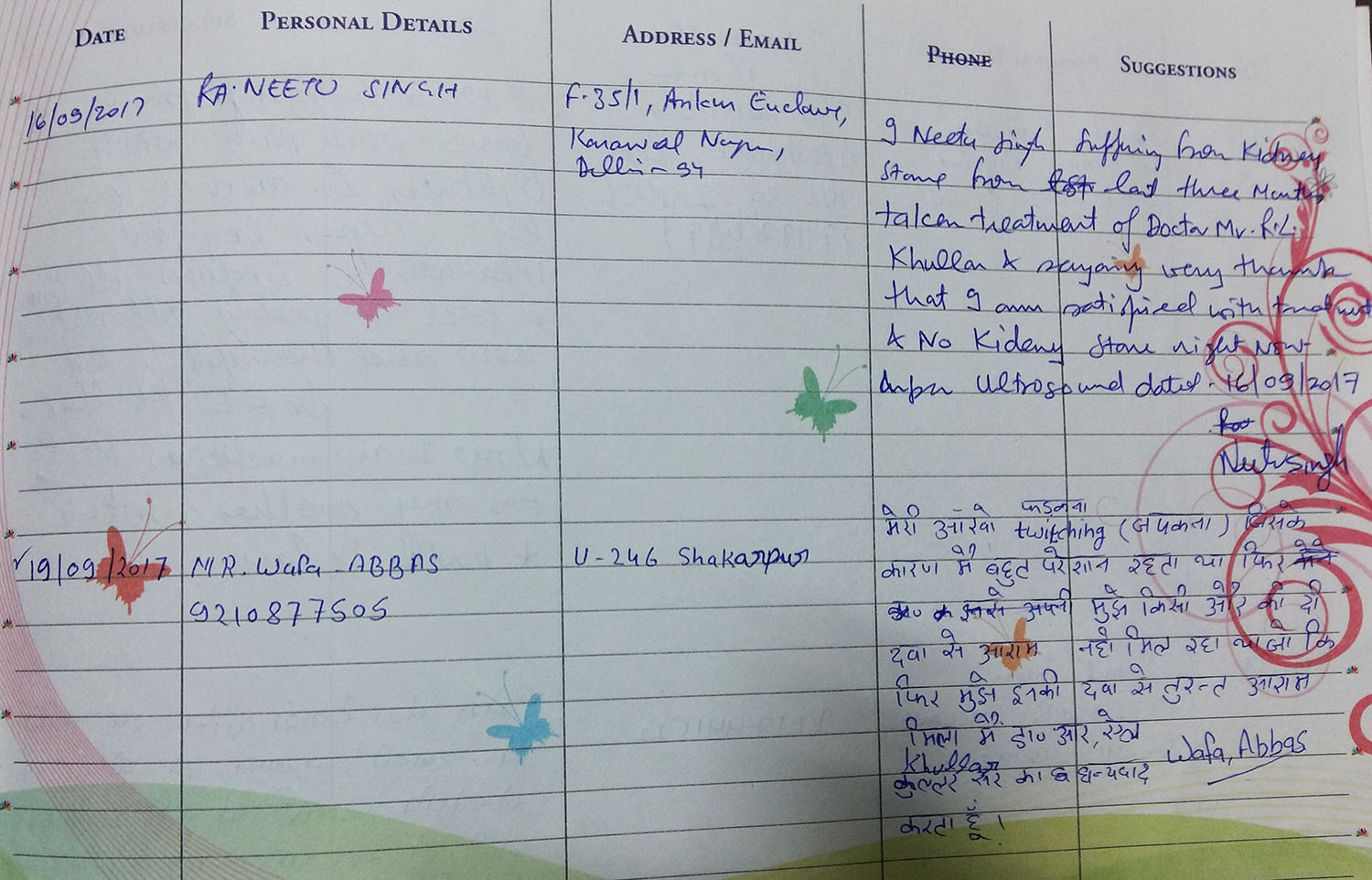 16.09.2017

Neetu Singh

F-35/1, Anam Enclave KArawal Nagar, Delhi-94

I Neetu Singh suffering from Kidney stone from last three months taken treatment from Dr Mr. R.L. Khullar & saying thank that I am satisfied with treatment & no kidney stone right now. Ultrasound dated 16/09/2017

19.09.2017

Mr. Wafa Abbas

U-246, Shakarpur

9210877505

मेरी आँखों का Twitching फड़कना (झपकना) जिसके कारण में बहुत परेशान रहता था फिर मुझे किसी और की दवा से आराम नहीं मिल रहा था जो की मुझे इनकी दवा से तुरंत आराम मिला मैं डॉ. आर एल
खुल्लर का धन्यवाद् करता हूँ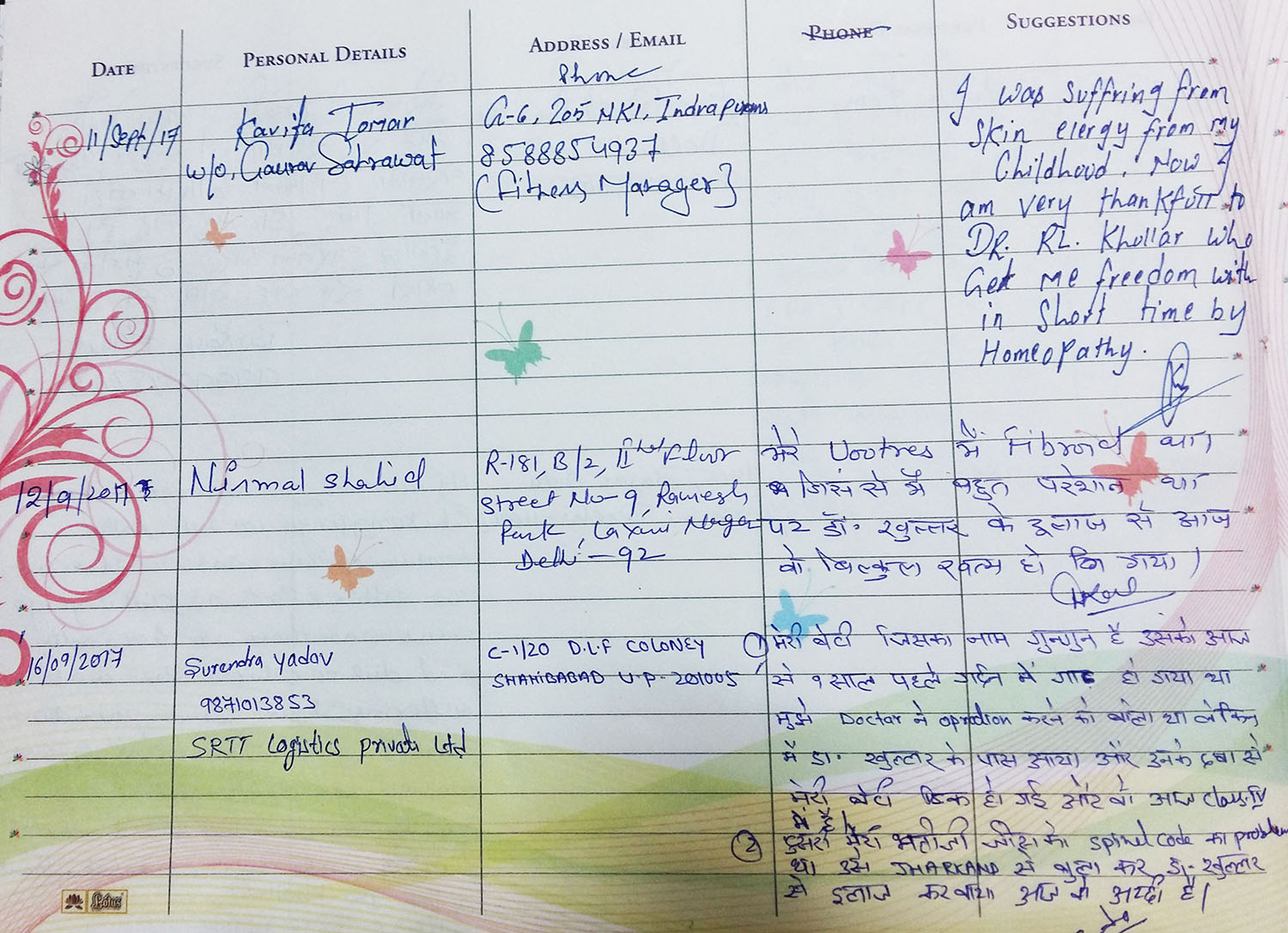 11.09.2017

Kavita Tomar W/o Gaurav Sehrawat

G-6, 205 MKI, Indra Puram (Fitness Manager)

8588854937

I was suffering from skin allergy from my childhood. Now I am very thankful to Dr. Khullar who get me freedom with in short time by homeopathy.

12.09.2017

Nirmal Shahid

R-181, B/2, IInd Floor street no 9, Ramesh Park Laxmi Nagar, Delhi-92

मेरे uterous में Fibroid था जिस से में बहुत परेशान था पर डॉ खुल्लर के इलाज से आज वो बिलकुल ख़त्म हो गया

16.09.2017

Surndra Yadav
SRIT Logistics pvt. Ltd.

C-1/20, D.L.F colony Sahibabad UP-201005

9871013853

मेरी बेटी का नाम गुनगुन है उसको आज से 9 साल पहले गर्दन में गाढ़ हो गया था मुझे डॉ ने ऑपरेशन करने को बोला था लेकिन में डॉ खुल्लर के पास आया और दवा से मेरी बेटी ठीक हो गयी और वो आज क्लास 4 में है

मेरी भतीजी को spinal code में problem थी उसे झारखण्ड से बुलाकर डॉ खुल्लर से इलाज करवाया आज वो अच्छी है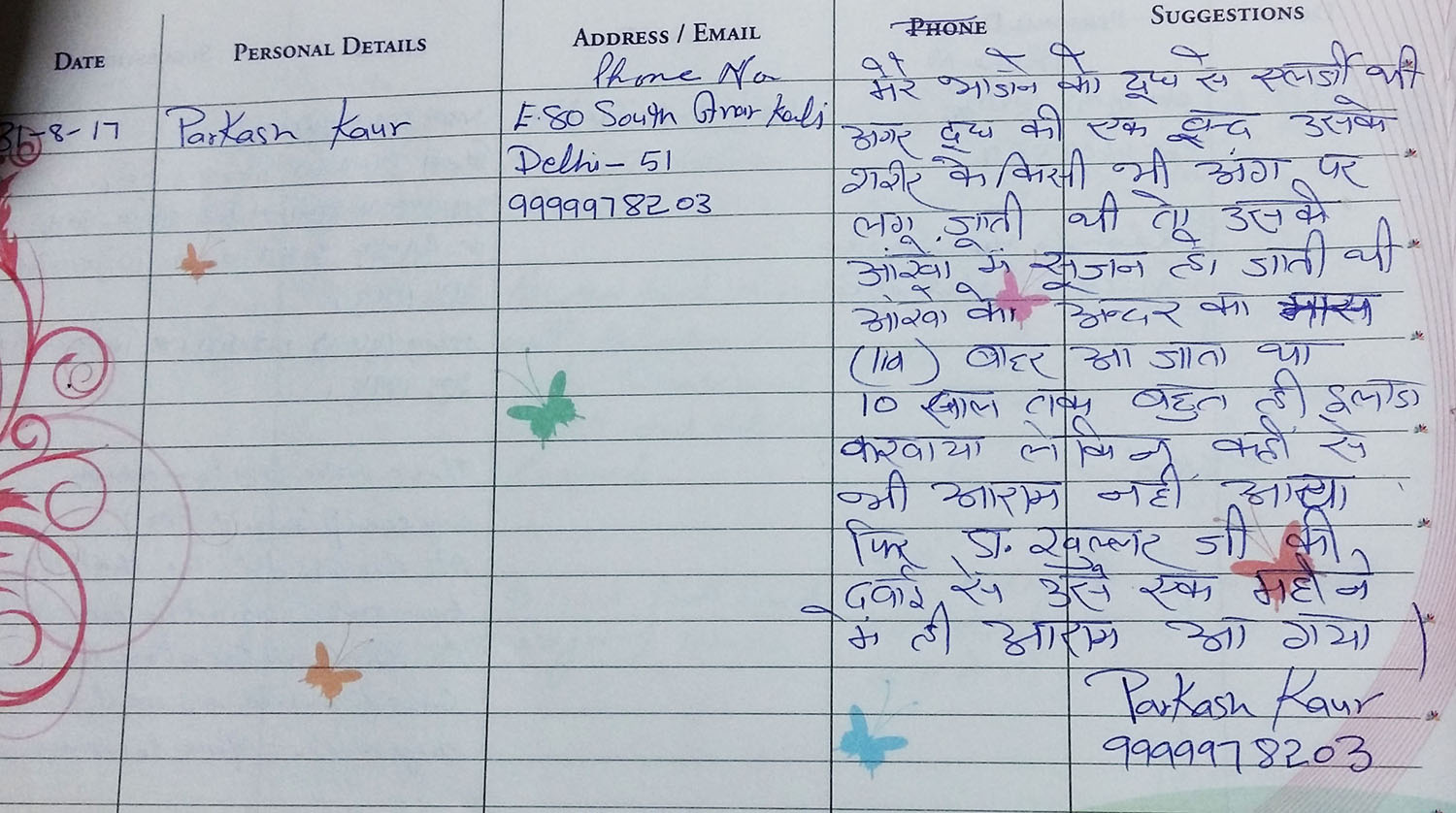 | | | | | |
| --- | --- | --- | --- | --- |
| 31.08.2017 | Parkash Kaur | E-80, South Anar Kali Delhi-110051 | 9999978203 | मेरे भांजे को दूध से एलर्जी थी अगर दूध की एक बूँद भी अंग पर लग जाती थी तो उसकी आँखों में सूजन हो जाती थी आँखों के अंदर का (lid) बाहर आ जाता था 10 साल तक बहुत इलाज कराया लेकिन कहीं से भी आराम नहीं आया फिर डॉ खुल्लर जी की दवाई से उसे एक महीने में ही आराम आ गया |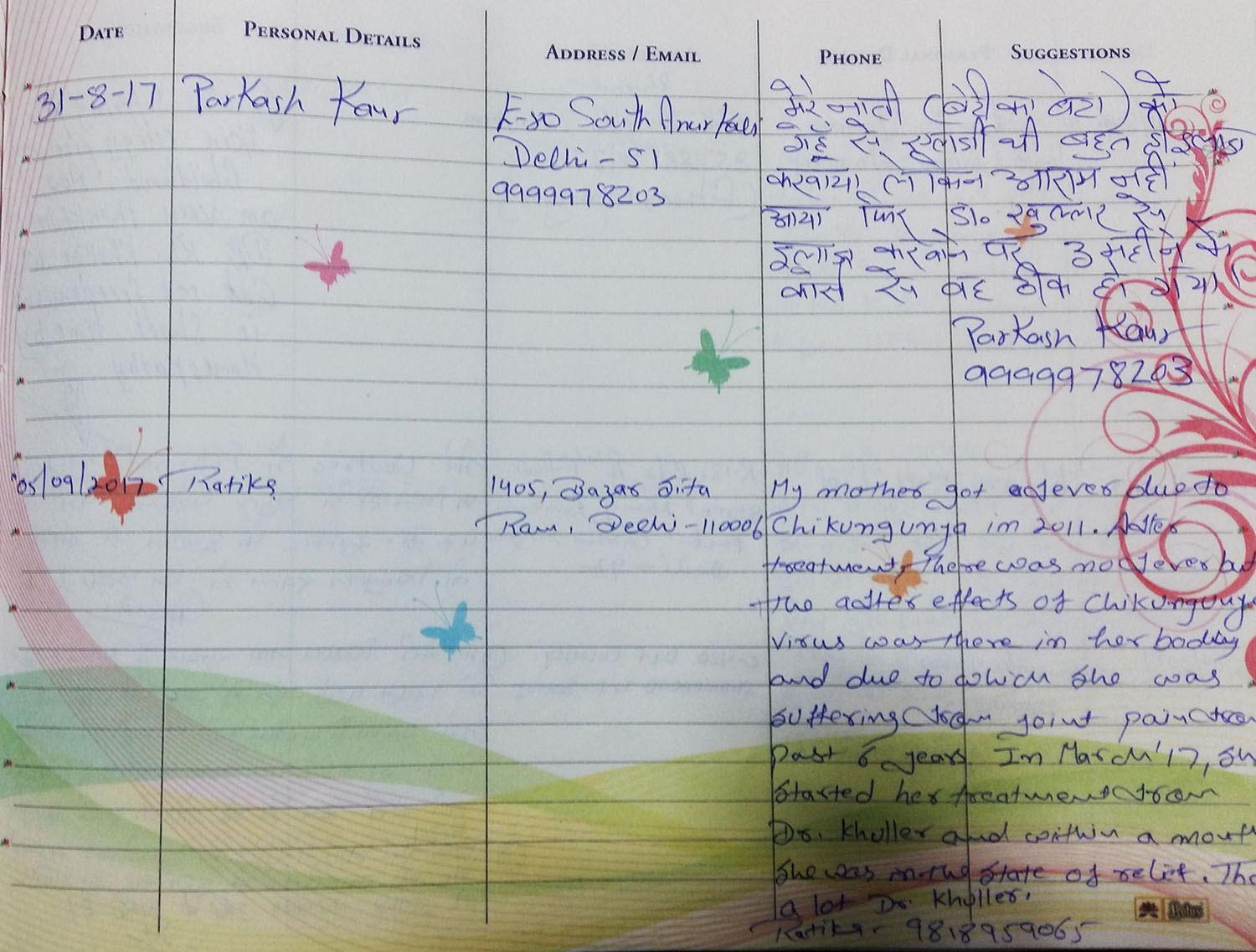 | | | | | |
| --- | --- | --- | --- | --- |
| 31.08.2017 | Parkash Kaur | E-80, South Anar Kali Delhi-110051 | 9999978203 | मेरे नाती (बेटी का बेटा) को गेहूं से एलर्जी थी बहुत ही इलाज करवाया लेकिन आराम नहीं आया फिर डॉ खुल्लर से इलाज करवाने पर तीन महीने के कोर्स से वह ठीक हो गया. |
| 05.09.2017 | Ratika | 1405, Bazar Sita Ram, Delhi-110006 | 9818959065 | My mother got fever due to chikungunya in 2011. After treatment no fever but other effects of chikungunya virus was there in her body and due to which she was suffering from joint pain from past 6 years. In march 2017 she started her treatment from Dr. Khullar and within a month she was in the state of relief. Thanks a lot Dr. Khullar. |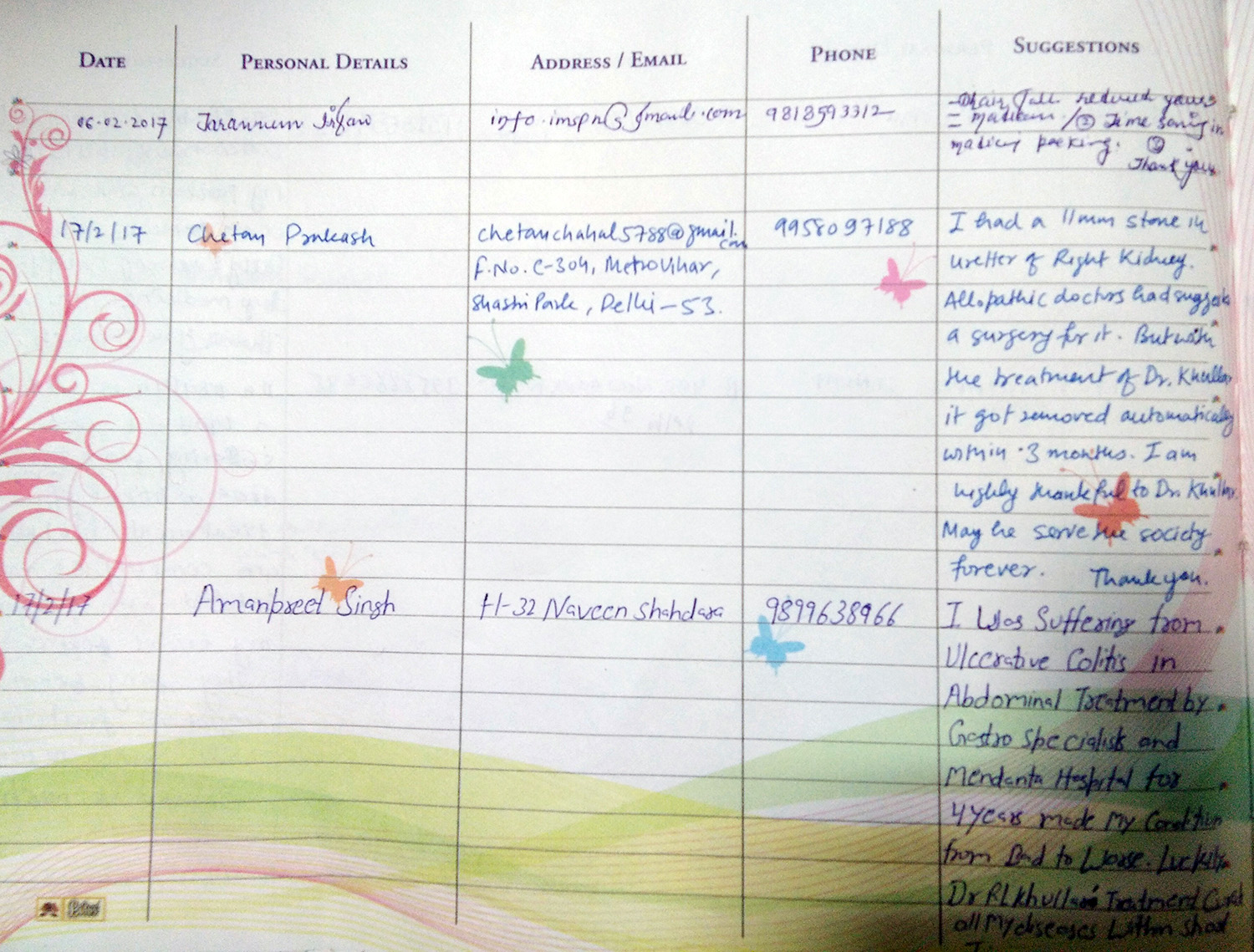 Date

Personal Details

Address / Email

Phone

Suggestion / Comments

06.02.2017

Jarrannum Irfan

9818593312

Hair Fall reduced, Time Saving packing Thank You

17.02.2017

Chetan Prakash

Chetanchahal5788@gmail.com
F.No. C-304, Metro vihar, Shastri Park, Delhi-53

9958097188

I have 11mm stone in uretter of right kidney. Allopathic doctors had suggested a surgery for it. But with the treatment of Dr. Khullar it got removed automatically within 3 months. I am highly thankful to Dr. Khullar. May he serve the society forever. Thank you

17.02.2017

Amarpreet Singh

H-32, Naveen Shahdara

9899638966

I was suffering for ulcerative colitis in abdominal. Treatment by Gastro specialist and Medanta Hospital for 4 years made my condition from bad to worse. Luckily Dr. Khullar's treatment cured all my colitis in short time.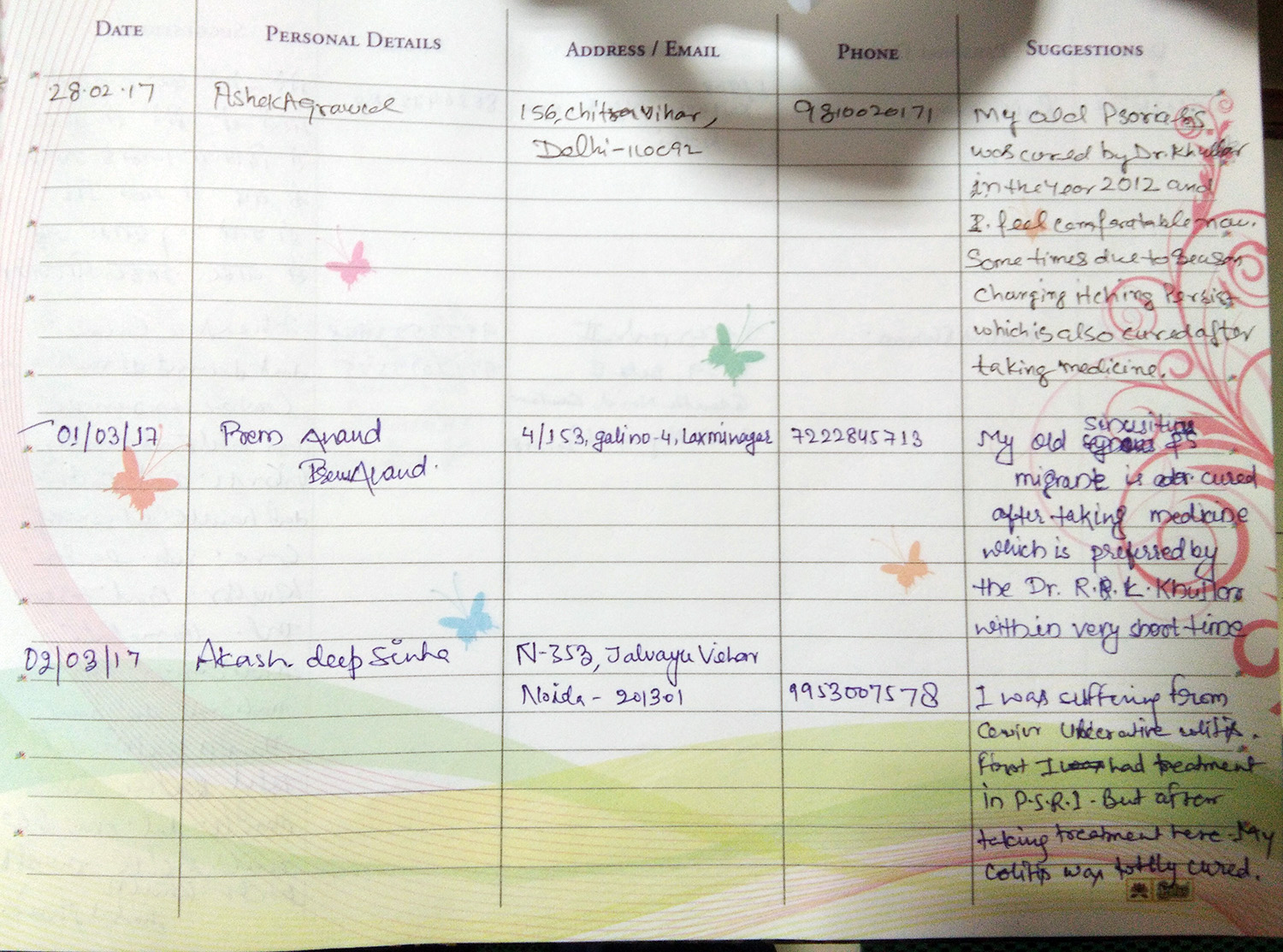 | | | | | |
| --- | --- | --- | --- | --- |
| 28.02.2017 | Ashok Aggarwal | 156, Chitra vihar, Delhi-92 | 9810020171 | My old psoriasis was cured by Dr. Kullar in the yar 2012 and I feel comfortable now. Sometimes due to season changing irritation persist which is also cured after taking medicine. |
| 01.03.2017 | Prem Anand | 4/153 Gali No. 4, Laxmi Nagar | 7222845713 | My old sinusitis & Migraine is cured after taking medicine which is preferred by Dr. R.L. Khullar within very short time. |
| 02.03.2017 | Akash Deep sinha | N-353, Jalvayu Vihar, Noida-201301 | 9953007578 | I was suffering from cevier ulcerative s colitis. First I had treatment in P.S.R.I. But after taking treatment here. My colitis way totally cured |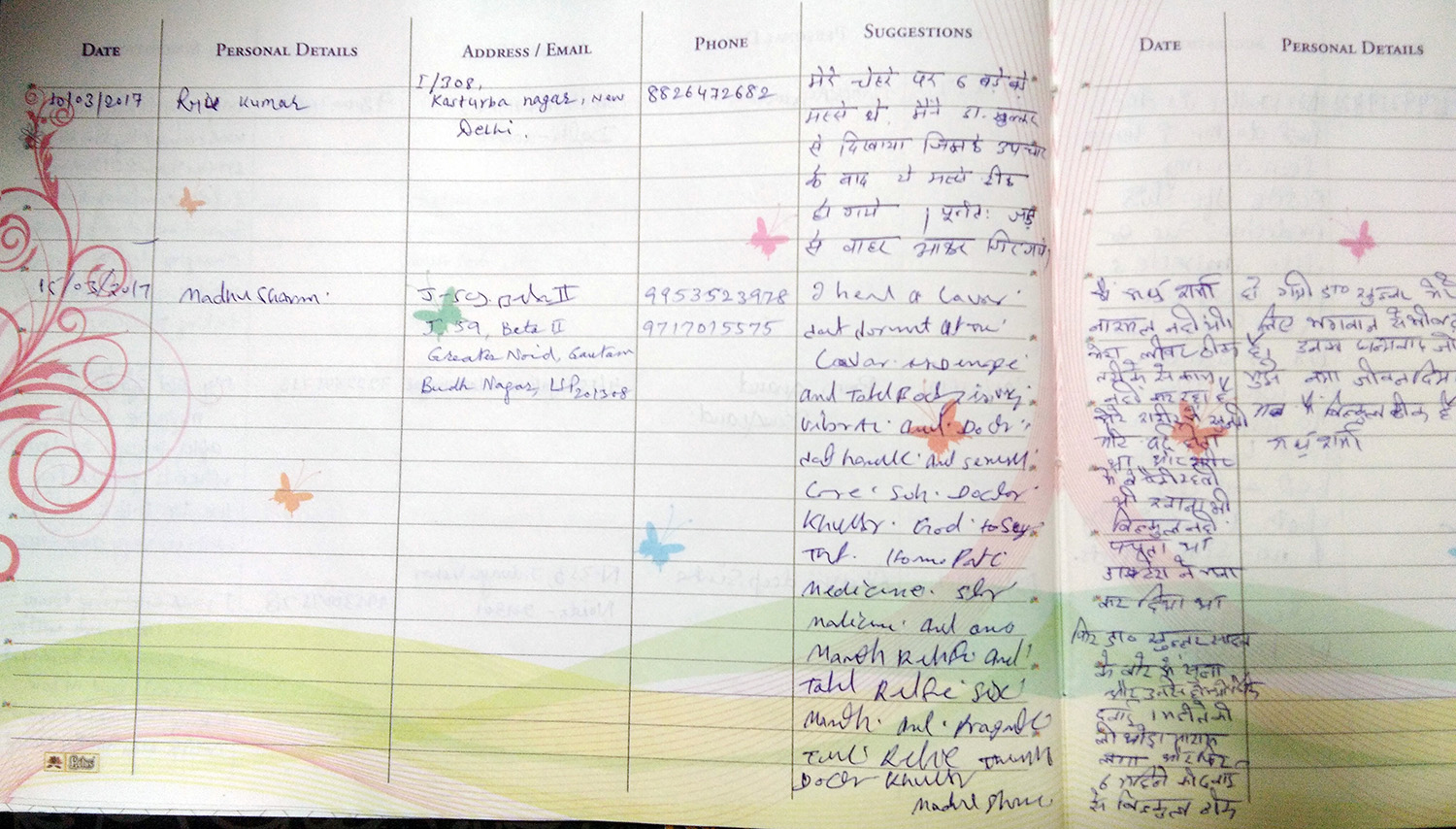 10.03.2017

Rahul Kumar

I/308, Kasturba Nagar, New Delhi

8826472682

मेरे चेहरे पर छह बड़े बड़े मस्से थे मैंने डॉ खुल्लर को दिखाया जिनसे उपचार के बाद मस्से ठीक हो गए पूर्णता जड़ से गिर गए

15.03.2017

Madhu Sharma

J-59 bata II Greater Noida, Gautam Budh Nagar 201308

9953523978
9717015575

शर्मा नार्मल नहीं थी मेरा लीवर ठीक से काम नहीं कर रहा था मेरे शरीर में खुजली और दर्द होता था खाना भी बिलकुल नहीं पचता था डॉक्टर ने मन कर दिया था फिर डॉ खुल्लर साहब के बारे में सुना और उनसे होम्योपैथिक दवाई एक महीने ली थोड़ा आराम मिला और फिर छह महीने की दवाई से बिलकुल ठीक हो गयी डॉ कुल्लर मेरे लिए भगवान् हैं उनका धन्यवाद् जो मुझे नया जीवन दी दिया अब मैं बिलकुल ठीक हूँ मधु शर्मा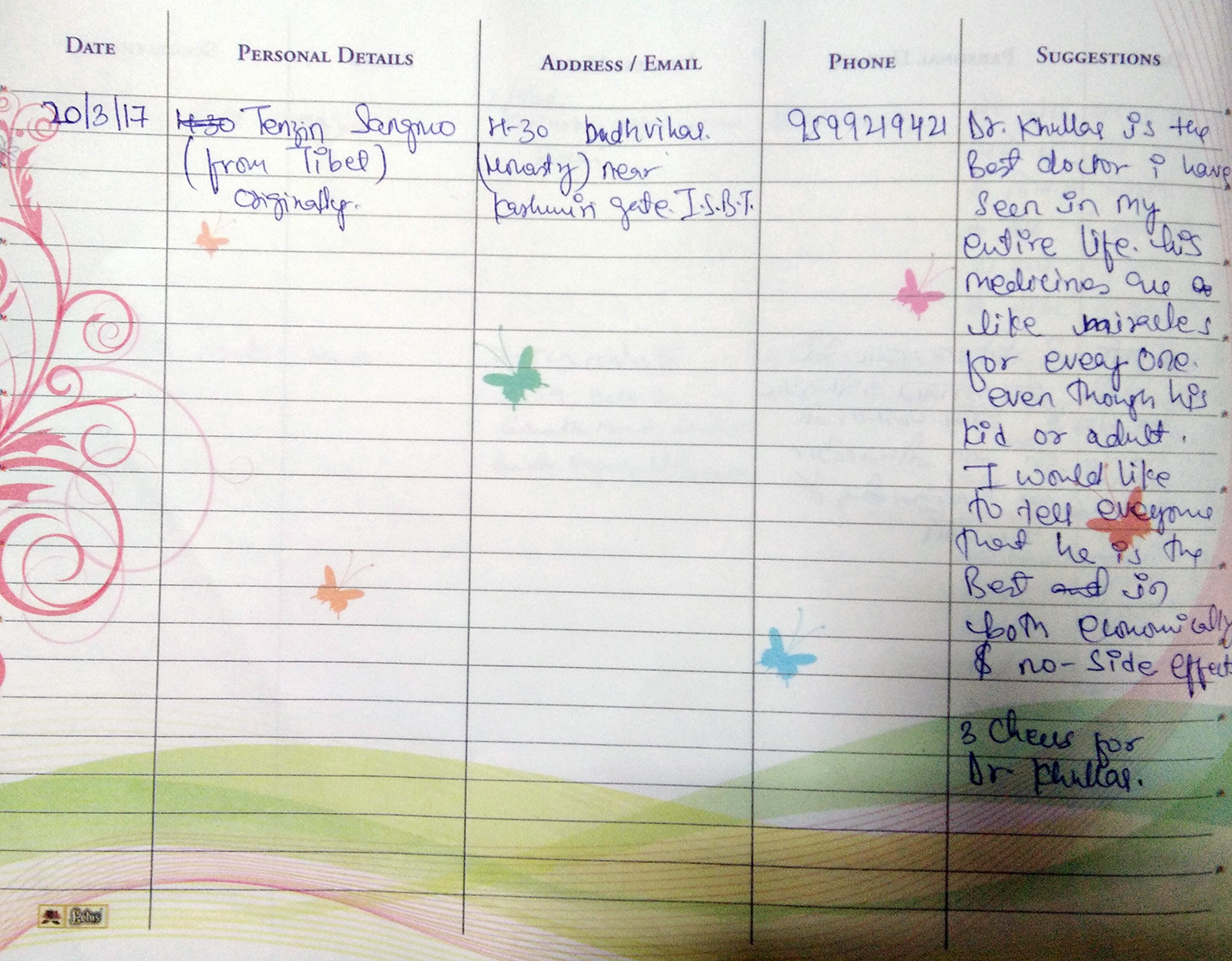 | | | | | |
| --- | --- | --- | --- | --- |
| 20.03.2017 | Tenzin Sangnoo (from Tibet originally) | H-30, Bidh Vihar (monastery) near Kashmiri Gate ISBT | 9599219421 | Dr. Khullar is the best doctor I have seen in my entire life. His medicines are like miracles for everyone. Even though his kid or adult. I would like to tell everyone this he is the best in both economically & no side effect. cheers for Dr. Khullar |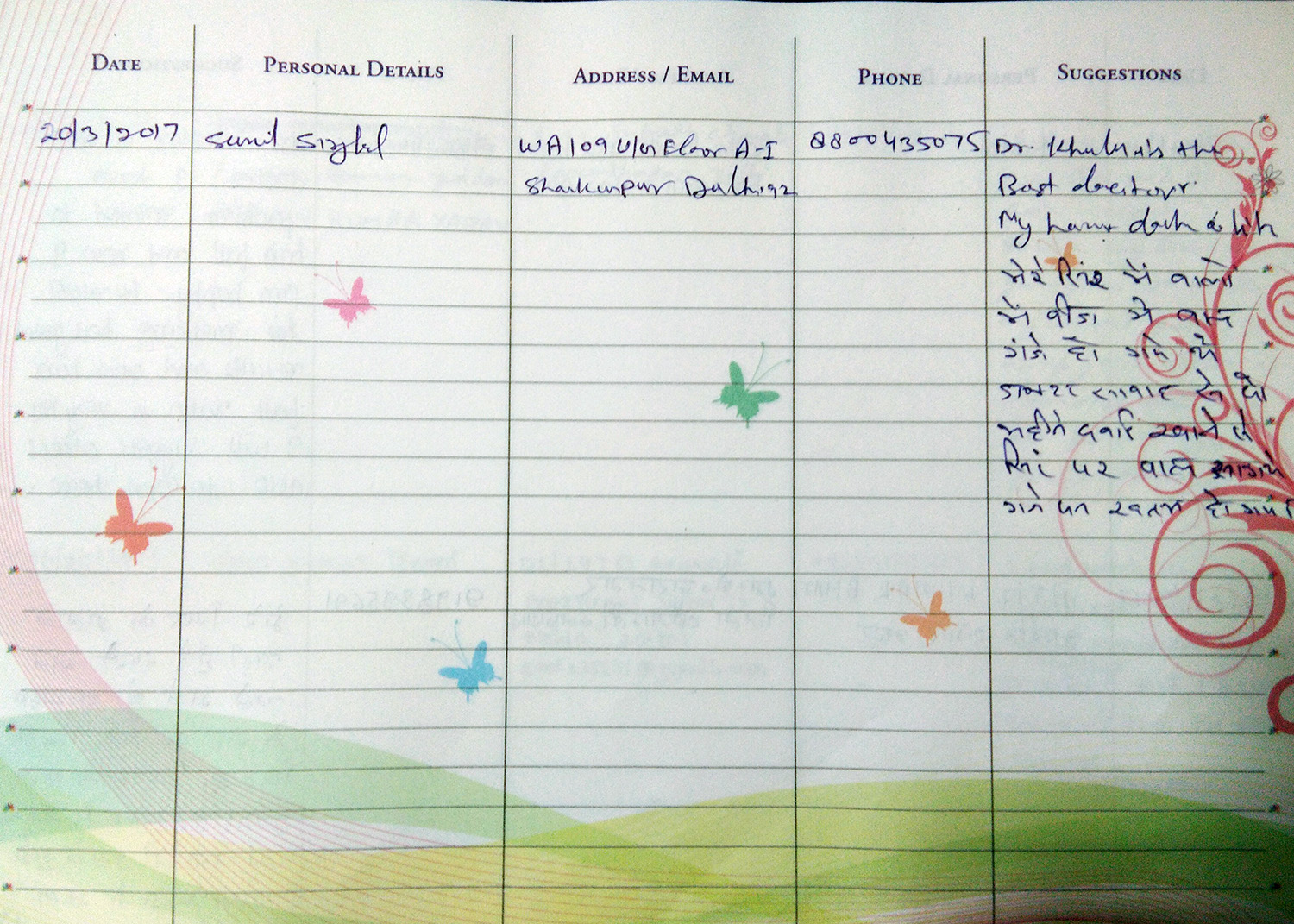 | | | | | |
| --- | --- | --- | --- | --- |
| 20.03.2017 | Sunmit Singhal | WA 109 U/G A-I shakarpur Delhi-92 | 8800435075 | Dr. Khullar is the best doctor for my hair. मेरे सिर के बाल गंजे हो गए थे डॉक्टर साहब से दो महीने दवाई लेने के बाद सिर पर बाल उग आये और गंजापन ख़त्म हो गया |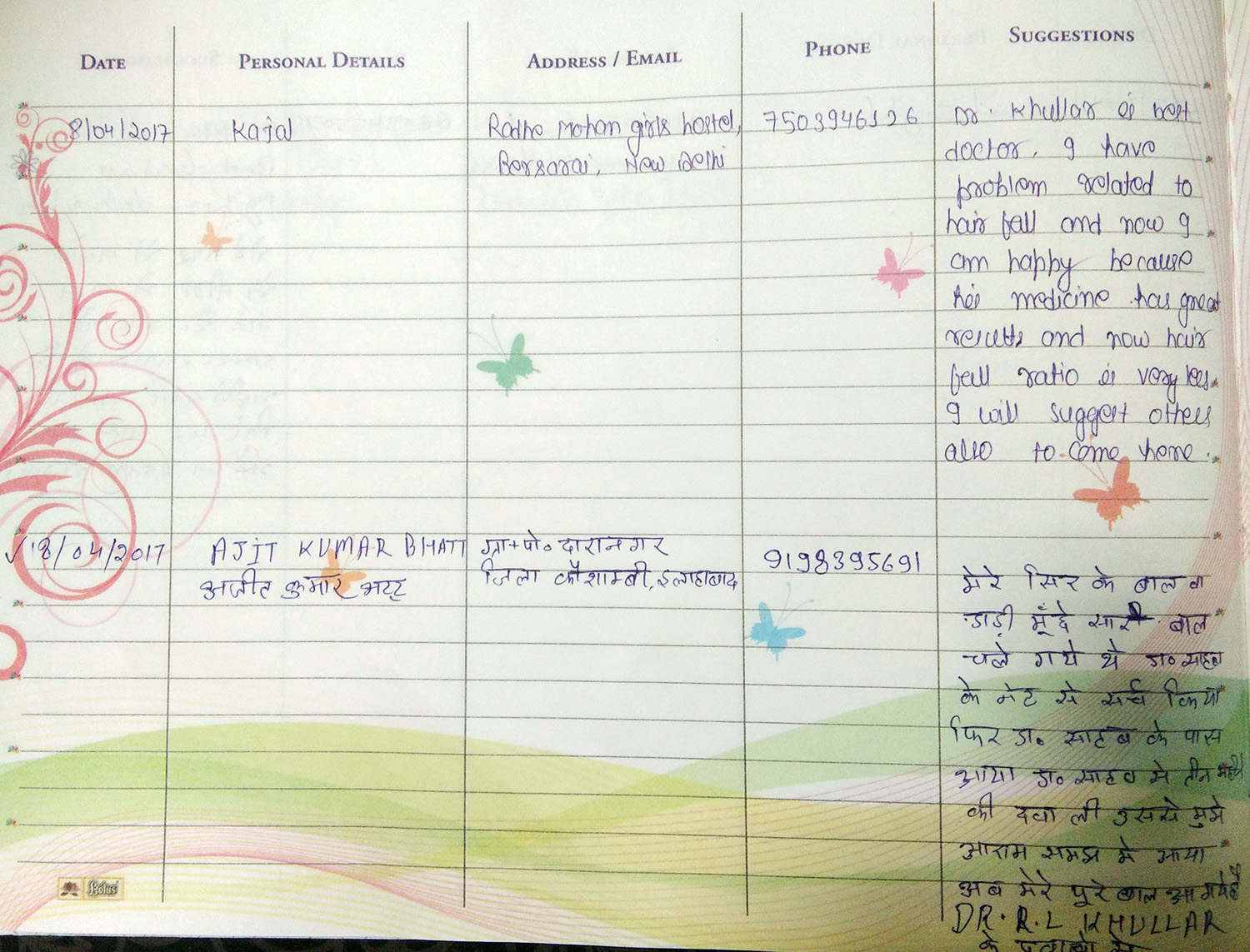 | | | | | |
| --- | --- | --- | --- | --- |
| 08.04.2017 | Kajal | Radhe Mohan Girls Hostel, Ber Sarai, New Delhi | 7503946326 | Dr. Khullar is the best doctor. I have problem related to hair fall and now I am happy because of his medicine has great results and now hair fall ratio is very less. I will suggest others also to come here. |
| 08.04.2017 | Ajit kumar Bhatt | ग्रा + पो दारानगर जिला कौशाम्बी इलाहाबाद | 91983959691 | मेरे सिर के बाल व दाढ़ी मूंछे सारे बाल चले गए थे डॉ साहब के नेट पर सर्च किया फिर डॉ साहब के पास आया डॉ साहब से तीन महीने की दवाई ली उससे मुझे आराम समझ में आया अब मेरे पूरे बाल आ गए हैं डॉ खुल्लर की दवाओं से |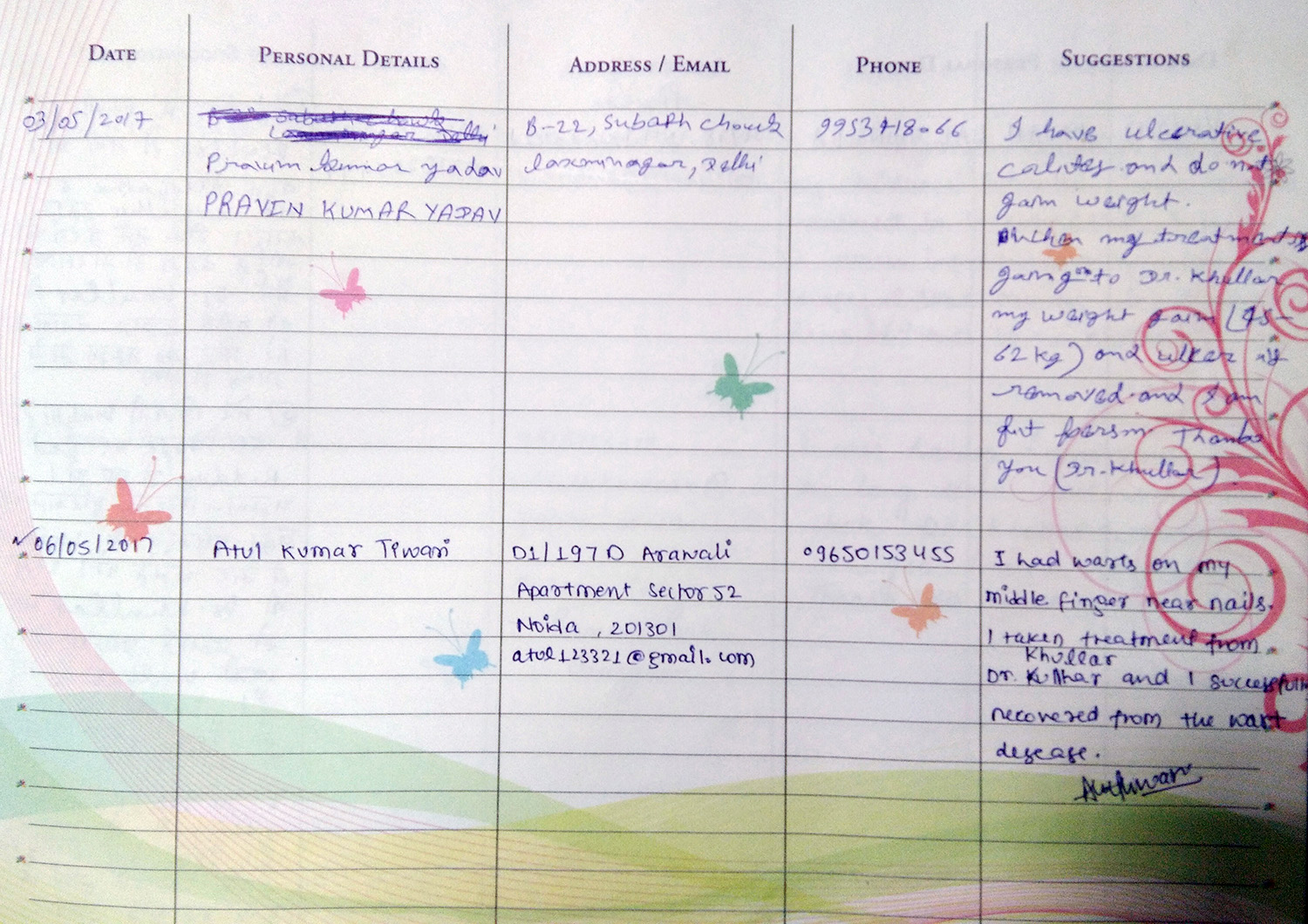 | | | | | |
| --- | --- | --- | --- | --- |
| 03.05.2017 | Pravin Kumar Yadav | B-22 Subhash chowk, Luxmi Nagar , Delhi | 9953418066 | I have ulcerative callosity and do not gain weight. After my treatment going toDr. Khullar my weight gain (45-62kg) and my ulcer is removed. Thank you Dr. Khullar |
| 06.05.2017 | Atul Kumar Tiwari | 01/1970, Arawali Apartments Sector-52, Noida 201301 | 09650153455 | I have warts on my middle finger near nails. I have taken treatment from Dr. KhullarI successfully recovered from warts disease. |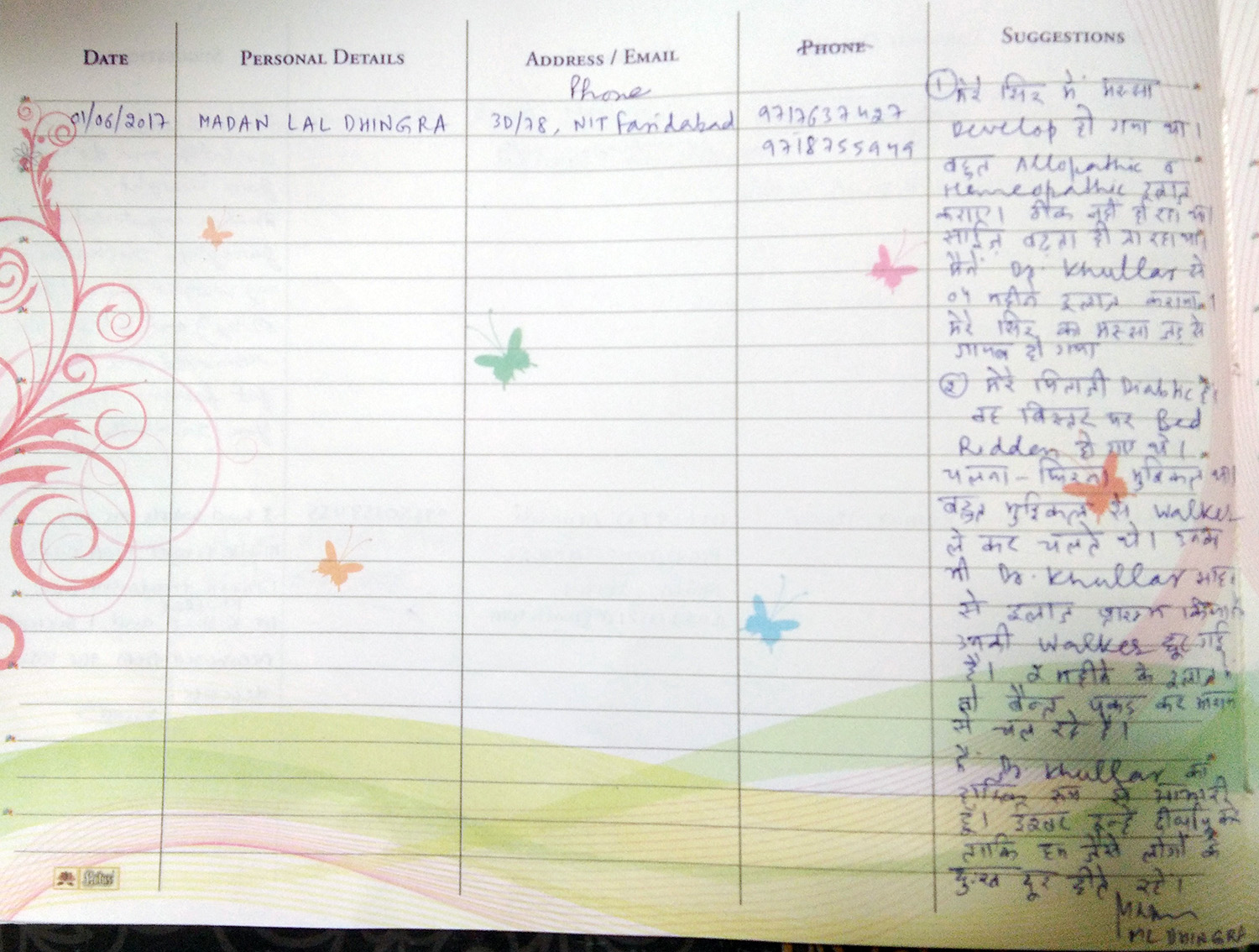 01.06.2017

Madan Lal Dhingra

3D/78 NIT Faridabad

9717637427
9718755949

मेरे सिर में मस्सा develop हो गया था बहुत Allopethic homeopathic इलाज कराये ठीक ही नहीं हो रहा था size बढ़ता ही जा रहा था मैंने डॉ खुल्लर से 4 महीने इलाज कराया मेरे सिर का मस्सा जड़ से गायब हो गया
मेरे पिताजी डाइबिटिक हैं वह bed ridden हो गए थे चलना फिरना मुश्किल हो गया था बड़ी मुश्किल से walker ले कर चलते थे उनको भी डॉ खुल्लर से इलाज प्रारम्भ किया walker छूट गयी दो महीने के इलाज के बाद आराम से चल रहे हैं डॉ खुल्लर को हार्दिक रूप से आभार ईश्वर उन्हें दीर्घायु दे ताकि हम जैसे लोगों के दुःख दूर होते रहें.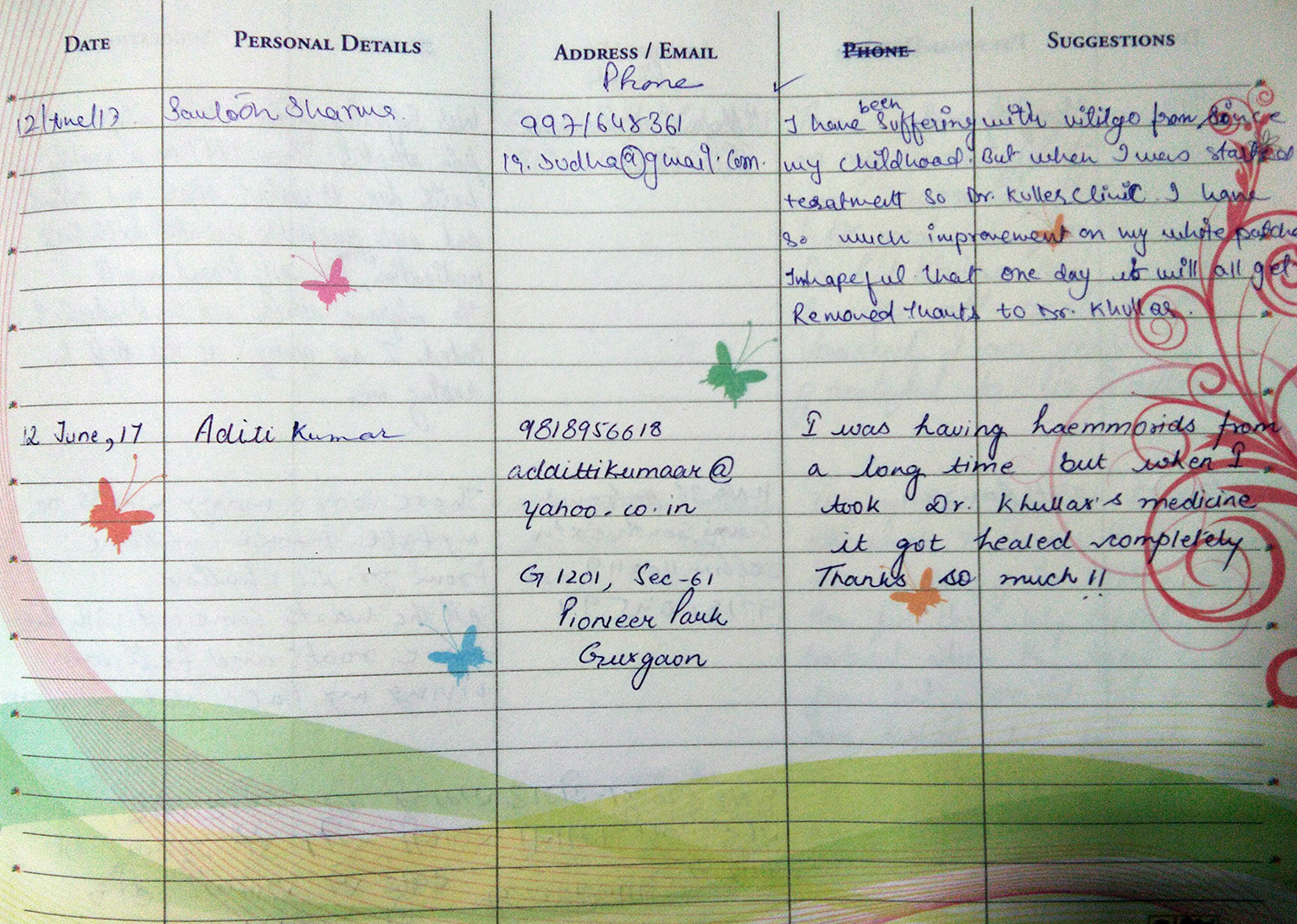 12.06.2017

Santosh Sharma

19.sudha@gmail.com

9971648361

I have been suffering from vitilgo from since my childhood. But when I was stated treatment from Dr. Khullar I have so much improvement on my white patches I am hopeful that one day it will all get removed thanks to Dr. Khullar

12.06.2017

Aditi Kumar

addittikumar@yahoo.co.in
G-1201, sec -61 Pioneer Park Gurgaon

9818956618

I was having hemorroides from a long time but when I took dr. Khullar's medicine it got healed completely. Thanks so much!!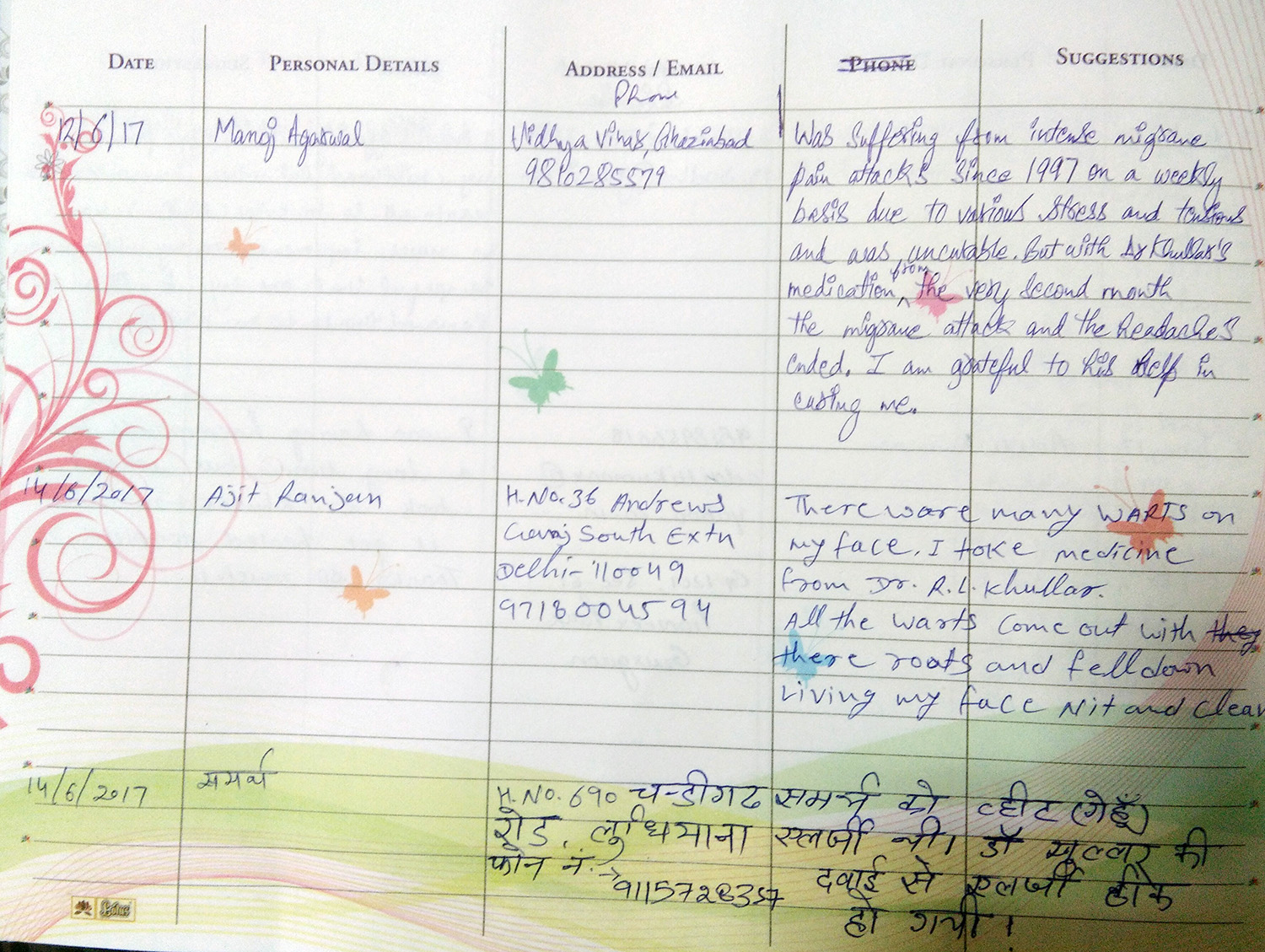 12.06.2017
Manoj Agarwal
Vidhya Vihar, Ghaziabad
9810285579
I was suffering from intense migrane pain attacks since 1997 on a weekly basis due to various stress and tensions and was incurable. But with Dr. Khullar's medications from the very second month the migrane attack ended. I am grateful to his help in easing me.
14.06.2017
Ajit Ranjan
H.No. 36 Andrews Ganj South Extn. New Delhi-11049
9718004594
There were many warts on my face. I take medicine from Dr. Khular all the warts come out with their roots and fell down leaving my face neat and clean.
14.06.2017

समर्थ

H.No. 590 चंडीगढ़ रोड, लुधियाना

फ़ोन न. 9115728357

समर्थ को व्हीट (गेंहू) एलर्जी थी डॉ खुल्लर की दवाई से एलर्जी ठीक

हो गयी
24.06.2017

Ritu Katyal

67, Rishabh Vihar

9136291391

There were many warts on my son's foot, I was very worried, then I took medicine from Dr. R.L. Khullar and in only 2 weeks all warts got vanished. I am very grateful to Dr. Khullar.

27.06.2017

Reyansh Singh
S/o Mr. Ratnesh Singh

43 C, 3rd Floor kilokari New Delhi 94

9971918644

It's my friends details & feedback which I share with u. We gave them reference of Dr. Khullar to them for their baby constipation treatment which they trying to treat from last one and half year from many hospitals but fail and finally they got the best result and treatment from Mr. Khullar. Thanks to him .I am here mention the hospitals from where they disappointed (BHU Banaras, Fortis Hospital , Kailash Hospital . regards Sanjay Rawat 9654740883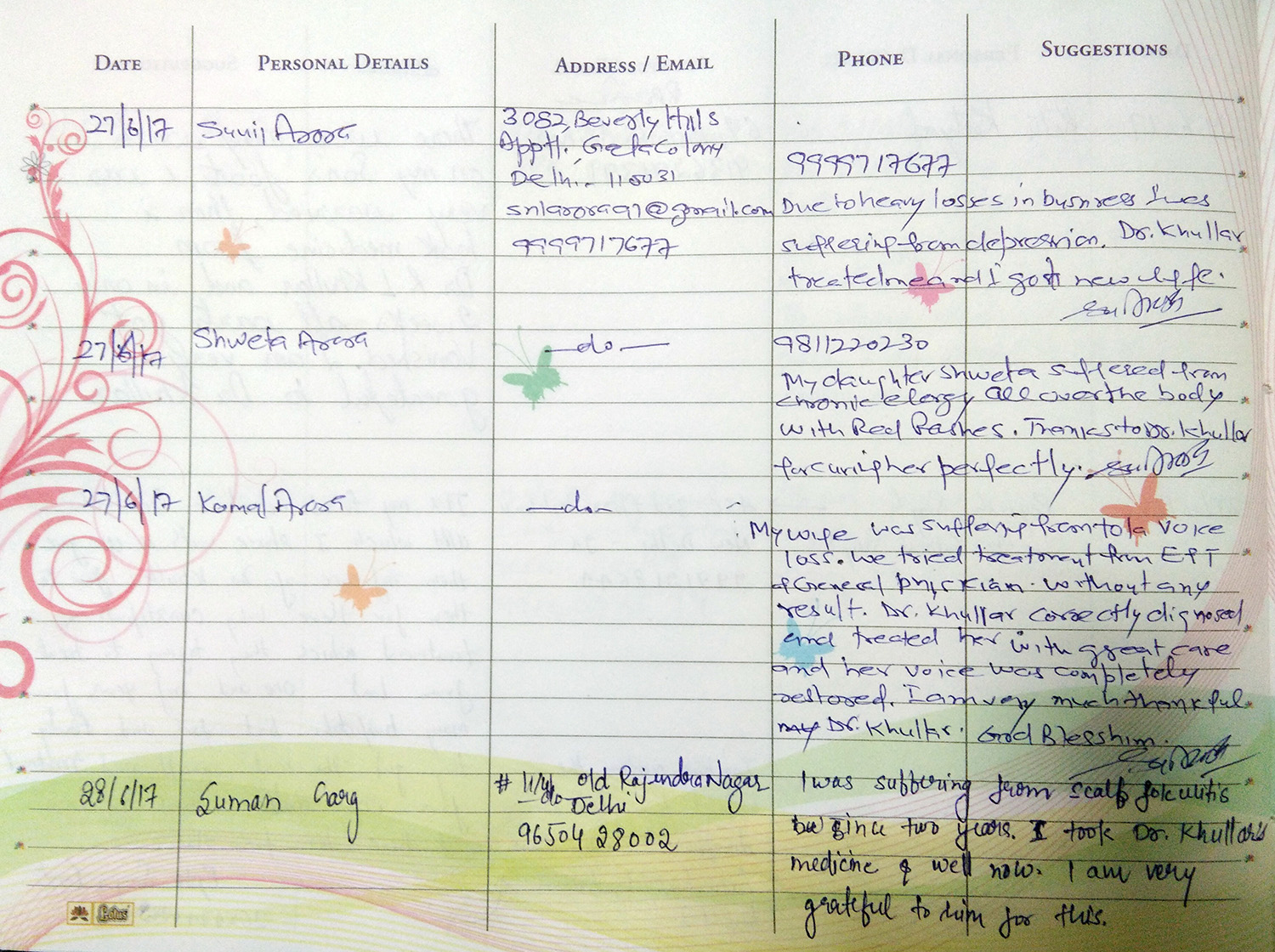 27.06.2017

Sunil Arora

3082, Beverly hills apptt. Geeta colony Delhi-110031
snlarora97@gmail.com

9999717677

Due to loss in business I was suffering from depression. Dr. Khullar treatment I got new life.

27.06.2017

Shweta Arora

3082, Beverly hills apptt. Geeta colony Delhi-110031
snlarora97@gmail.com

9811220230

My daughter Shweta suffered from chronic allergy all over the body with red rashes. Thanks to Dr. Khullar for curing her perfectly.

27.06.2017

Kamal Arora

3082, Beverly hills apptt. Geeta colony Delhi-110031
snlarora97@gmail.com

My wife was suffering from total voice loss. We tried treatment from EPT & General physician without any result. Dr. Khullar correctly diagnosed and treated her with great care and her voice was completely restored. I am very much thankful Dr. Khullar. God bless him.

28.06.2017

Suman Garg

O11/41, old Rajinder Nagar Delhi

9650428002

I was suffering from scalp follicultis since two years. I took Dr. Khullar's medicine & well now. I am very grateful to him for this.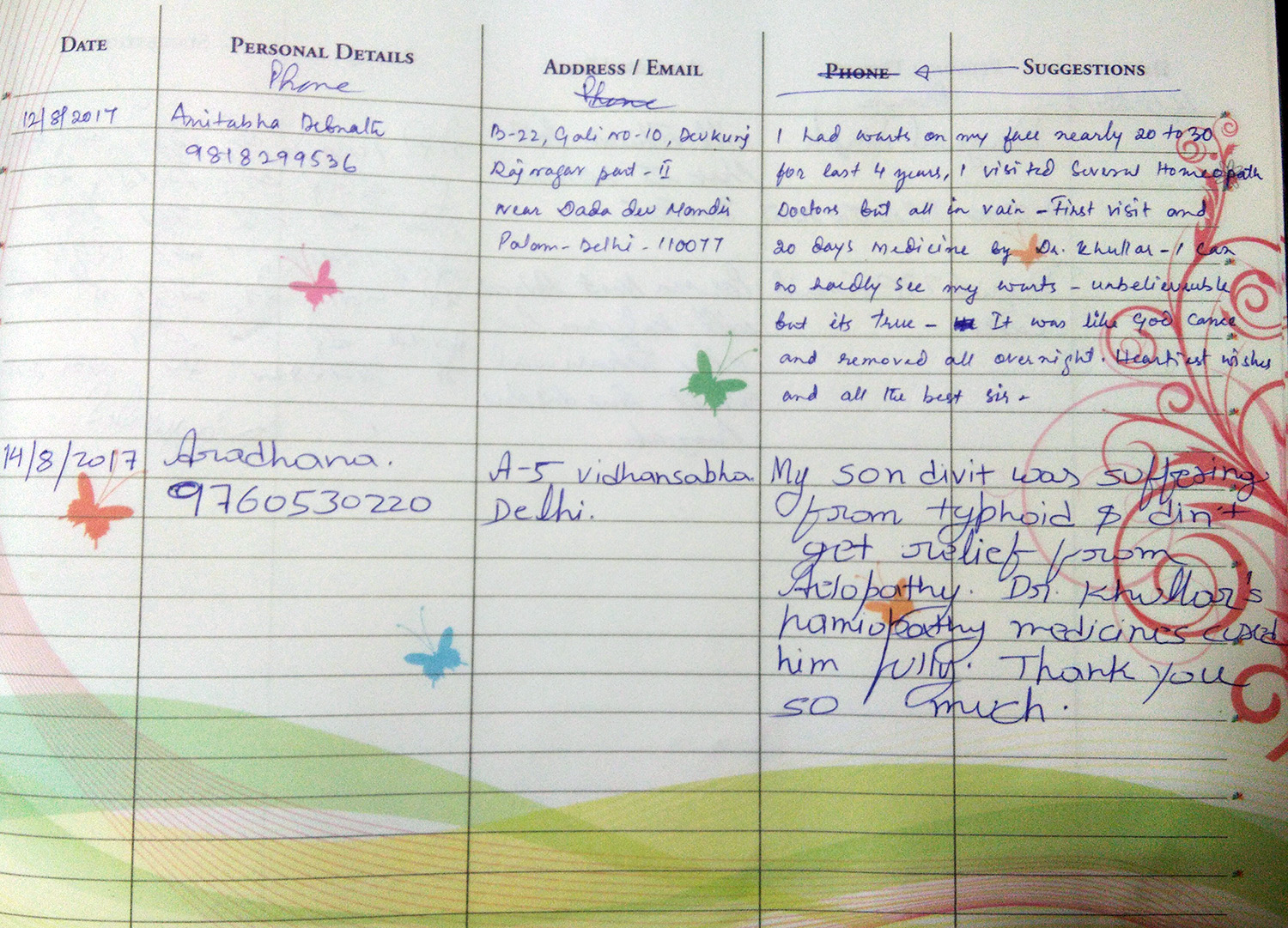 | | | | | |
| --- | --- | --- | --- | --- |
| 12.08.2017 | Amitabha Bednath | B-22, Gali No. 10 Devkunj Raj Nagar Part-II New Dada Dev Mandi Palam Delhi-110007 | 9818299536 | I had warts on my face nearly 20 to 30 for last 4 years. I visited several homeopathic doctors but all in vain. First visit and 20 days medicine by dr. Khullar I cannot hardly see my warts unbelievable but it is true. It was like God came and removed all overnight. Heartiest wishes and all the best Sir. |
| 14.08.2017 | Aradhana | A-5, Vidhan Sabha Delhi | 9760530220 | My Son Divit was suffering from typhoid & didn't get relief from allopathic. Dr. Khullar's homeopathy medicines cured him fully. Thank you so much. |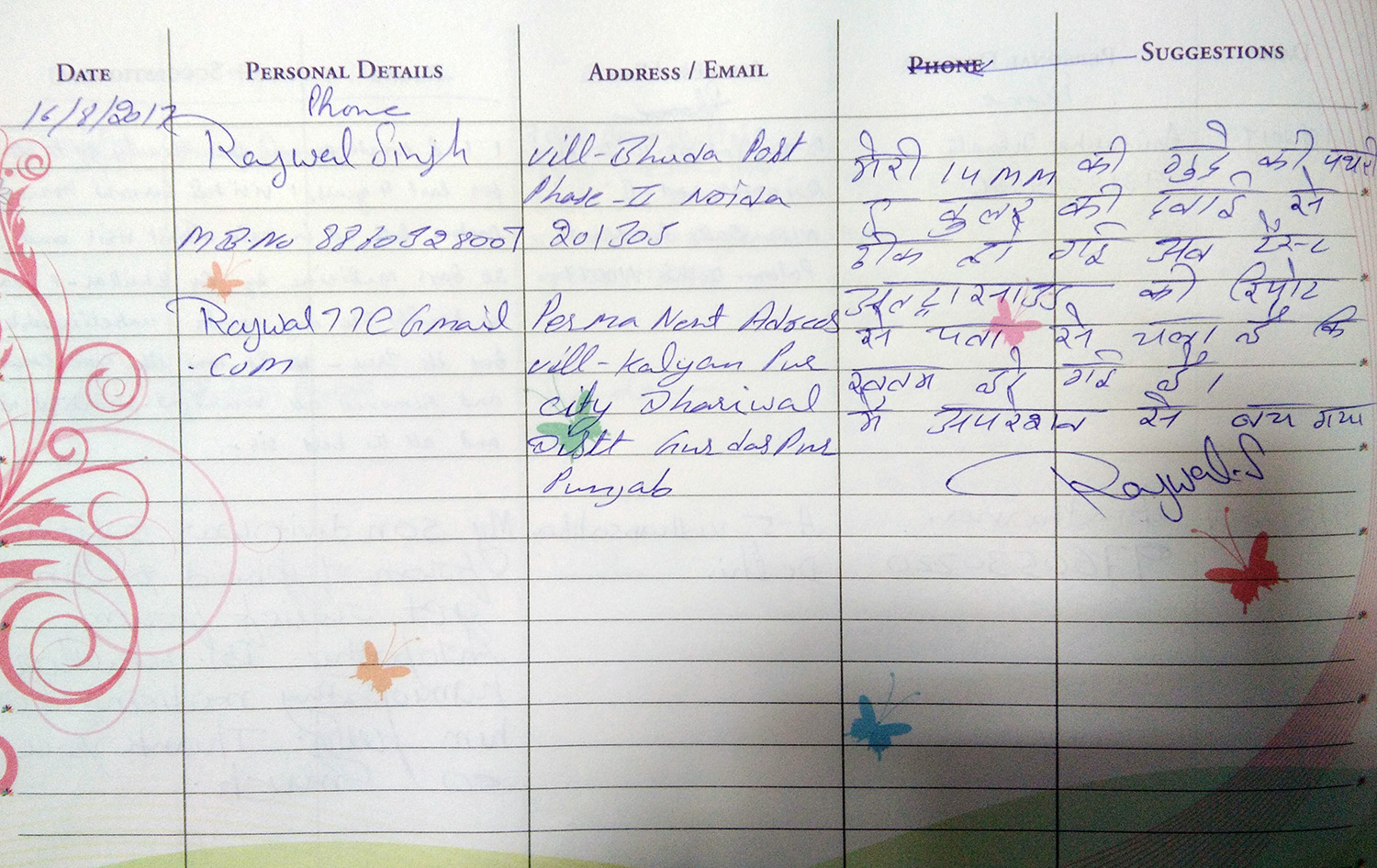 16.08.2017

Rajwal singh

Vill – Bhurda Post Phase – II Noida=201305
Permanent Address: Vill-Kalyanpur city Dhariwal Dist. Gurdaspur, Punjab
Rajwal77e@gmail.com

8860328007

मेरी 14mm की गुर्दे की पथरी डॉ खुल्लर की दवाई से ठीक हो गयी अब टेस्ट अल्ट्रासाउंड की रिपोर्ट से पता चला है की ख़त्म हो गयी है मैं ऑपरेशन से बच गया

Aug 2017

Ankur Gaur

D-102A South Ganesh Nagar- II Delhi 110092

9312222566
7428449489

मेरी किडनी में 10mm की पथरी थी डॉ खुल्लर की दवाई से ख़त्म हो गयी
Hi Dr, Can I get by electronically way any copy from any of your books? Thanks in advance and regards from Mexico.
Ramon Sanchez
---
Dear Dr. Khullar,
Good work. Making easy for others to understand and use in practice. Please continue similar More.
Dr. Shashi Mohan Shrama
---
Respected Sir,
Thank you for sending me anxiety documents. Sir it's a great work and very helpful for all, especially for beginners. Sir, I am highly obliged if u send me more documents like this. Sir, I request to include one difficult case, one rare or common remedy with significant symptoms.
Dr. GauravVerma
---
Dear Dr. Khullar
Very good work.I love to receive it .Hope you make it available for the students.
Roger
---

Dear Dr. Khullar
Nice to hear from you after a very long time. Your complication on Anxiety is really very good. Keep up the good work. I would appreciate that you log on to my website www.ovihams.com also and send me your feedback and suggestions also.
With best wishes
Dr. A.K.Gupta
---
Dear Dr. Khullar
As per the work received, I'd like to congratulate you for the same. The work seems to be useful for the Homeopathic Fraternity, as the symptoms are obviously present in various repertories, but in a scattered format. Your work will be useful, as all the concomitants are readily in a comprehensive and arranged format.

So, I recommend you to kindly take the step ahead in the publishing of the book. If you would like to pursue this in an e-learning format, I recommend you to kindly contact the team of B. Jain and Radar, so that they can include your precious work in their esteemed software and e –learning project named "ENCYCLOPEDIA HOMEOPATHIC.
My regards are with you always and waiting in anticipation for your work.

Prof. (Dr.) PankajAggarwal
---
Dear Dr. Khullar
Sir it will be my great pleasure to receive and to learn from your wonderful research work. Sir please kindly forward your research work, looking forward to your mails.
Dr. PrasunBandyopadhyan
---
Dear Dr. Khullar
You have done a great job with big efforts. I appreciate it.
Dr. BrajeshSrivastav
---
Dear Dr. Khullar
You are doing great job. Keep it up and please keep sending updates.
Muktinder Singh
---
Leave a Reply, And Voice Yourself
Your email address will not be published. Required Fields are marked*