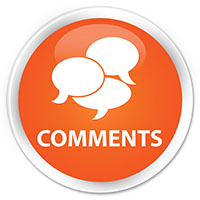 Guest Comments - Testimonial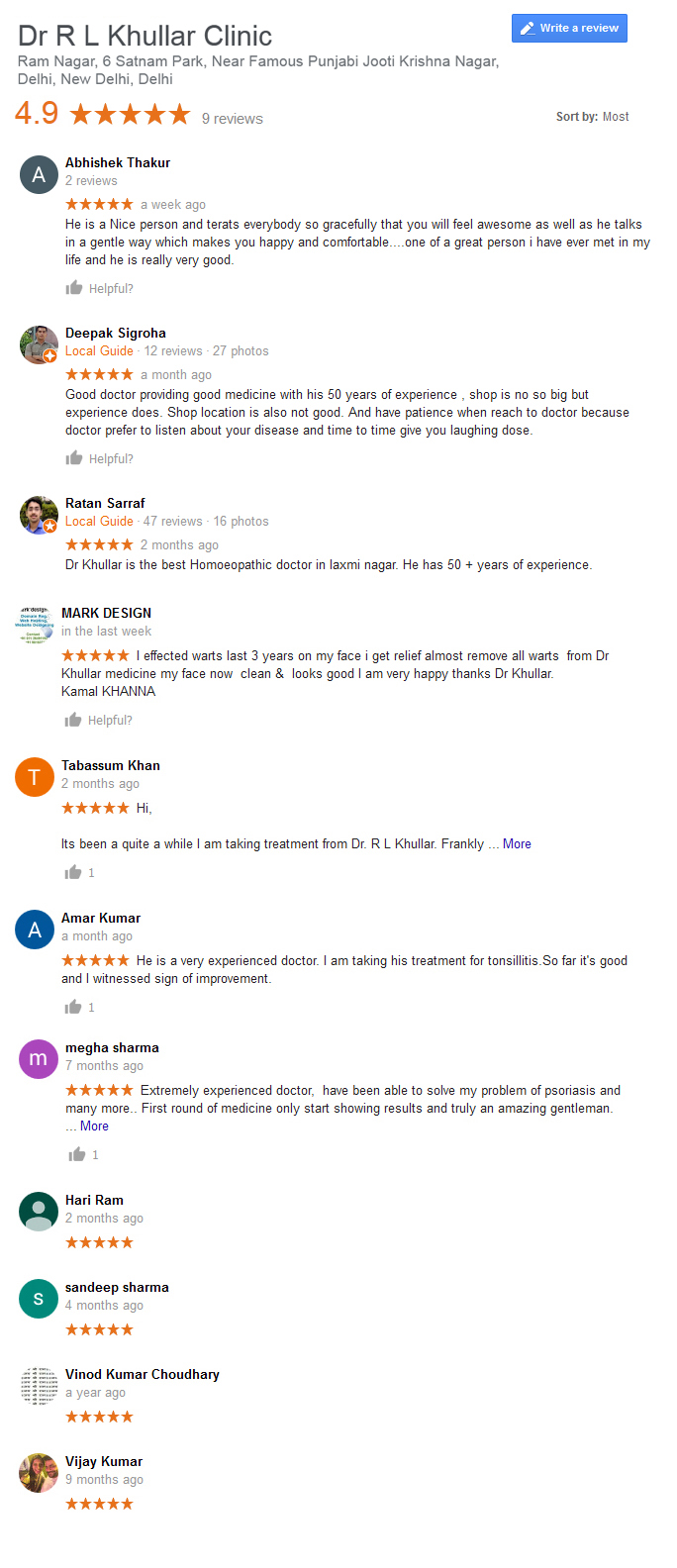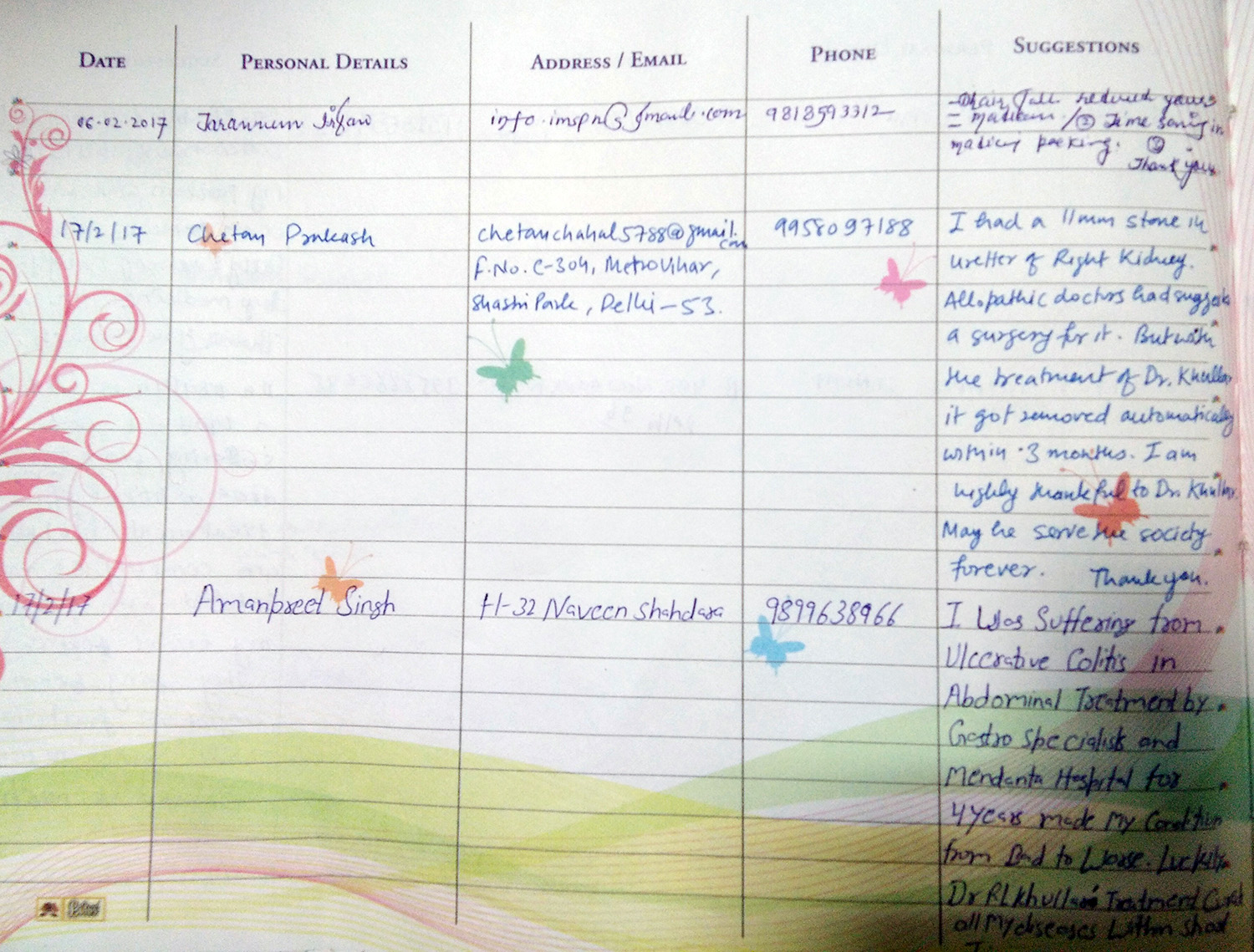 Date

Personal Details

Address / Email

Phone

Suggestion / Comments

06.02.2017

Jarrannum Irfan

9818593312

Hair Fall reduced, Time Saving packing Thank You

17.02.2017

Chetan Prakash

Chetanchahal5788@gmail.com
F.No. C-304, Metro vihar, Shastri Park, Delhi-53

9958097188

I have 11mm stone in uretter of right kidney. Allopathic doctors had suggested a surgery for it. But with the treatment of Dr. Khullar it got removed automatically within 3 months. I am highly thankful to Dr. Khullar. May he serve the society forever. Thank you

17.02.2017

Amarpreet Singh

H-32, Naveen Shahdara

9899638966

I was suffering for ulcerative colitis in abdominal. Treatment by Gastro specialist and Medanta Hospital for 4 years made my condition from bad to worse. Luckily Dr. Khullar's treatment cured all my colitis in short time.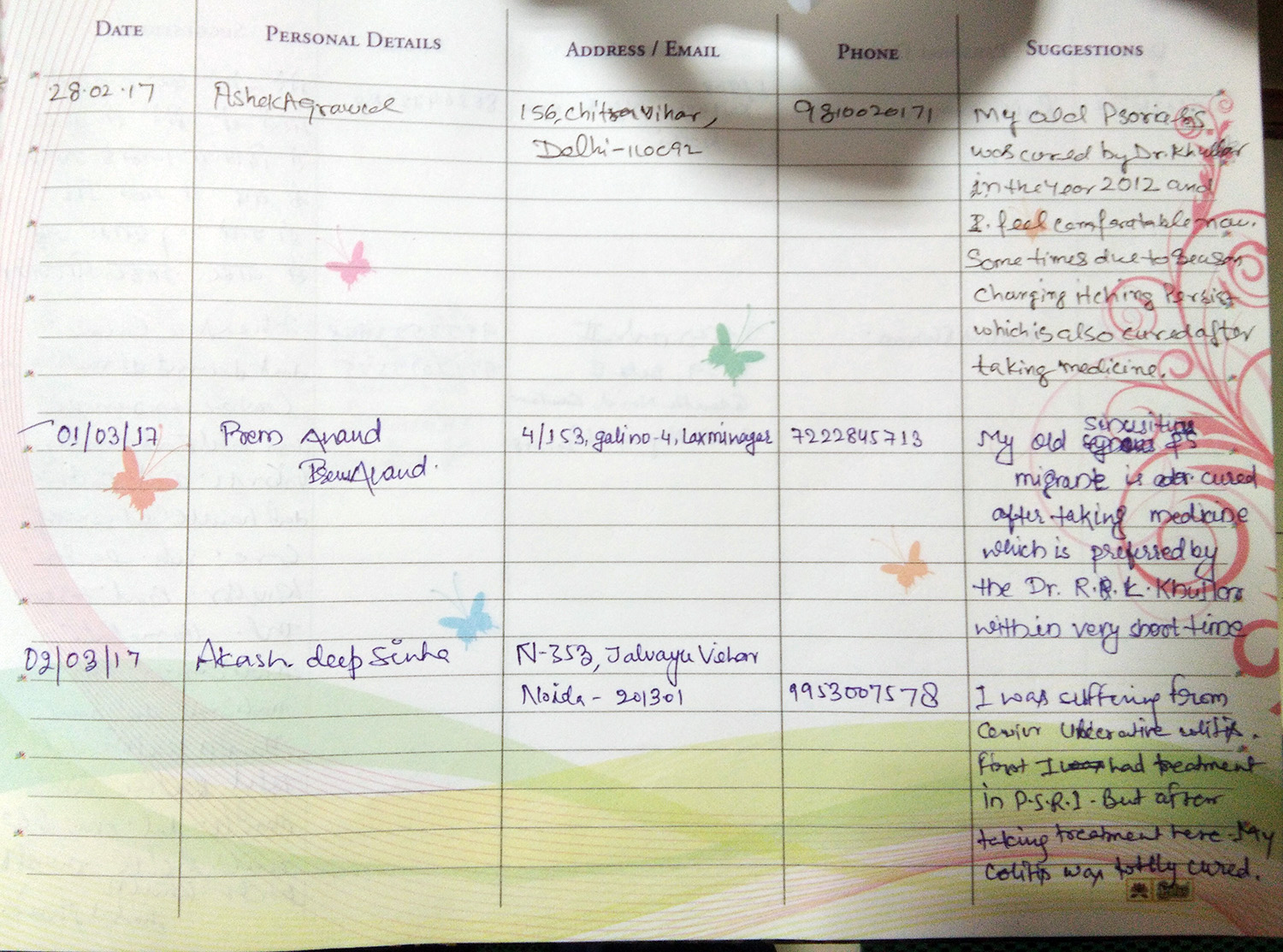 | | | | | |
| --- | --- | --- | --- | --- |
| 28.02.2017 | Ashok Aggarwal | 156, Chitra vihar, Delhi-92 | 9810020171 | My old psoriasis was cured by Dr. Kullar in the yar 2012 and I feel comfortable now. Sometimes due to season changing irritation persist which is also cured after taking medicine. |
| 01.03.2017 | Prem Anand | 4/153 Gali No. 4, Laxmi Nagar | 7222845713 | My old sinusitis & Migraine is cured after taking medicine which is preferred by Dr. R.L. Khullar within very short time. |
| 02.03.2017 | Akash Deep sinha | N-353, Jalvayu Vihar, Noida-201301 | 9953007578 | I was suffering from cevier ulcerative s colitis. First I had treatment in P.S.R.I. But after taking treatment here. My colitis way totally cured |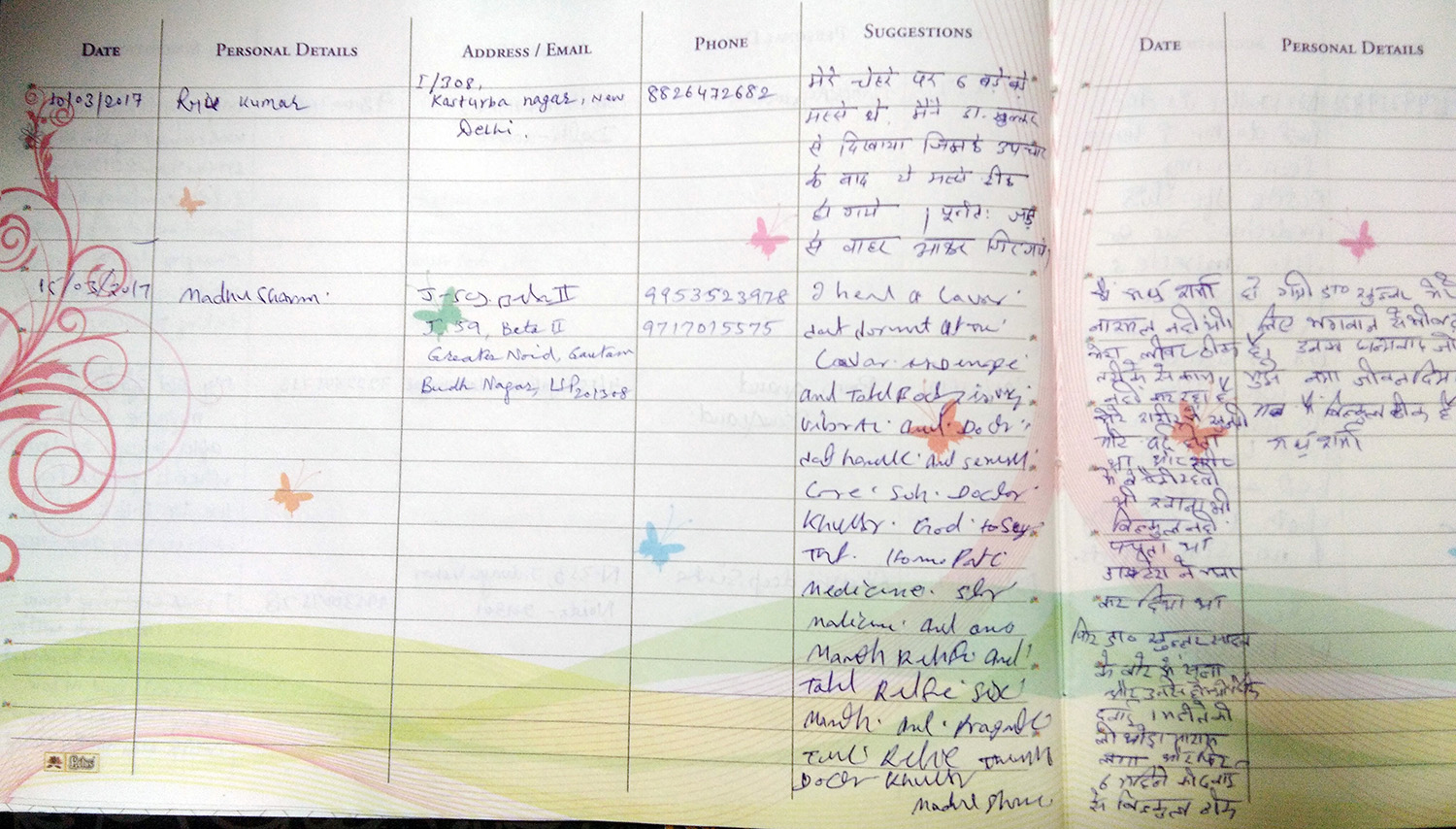 10.03.2017

Rahul Kumar

I/308, Kasturba Nagar, New Delhi

8826472682

मेरे चेहरे पर छह बड़े बड़े मस्से थे मैंने डॉ खुल्लर को दिखाया जिनसे उपचार के बाद मस्से ठीक हो गए पूर्णता जड़ से गिर गए

15.03.2017

Madhu Sharma

J-59 bata II Greater Noida, Gautam Budh Nagar 201308

9953523978
9717015575

शर्मा नार्मल नहीं थी मेरा लीवर ठीक से काम नहीं कर रहा था मेरे शरीर में खुजली और दर्द होता था खाना भी बिलकुल नहीं पचता था डॉक्टर ने मन कर दिया था फिर डॉ खुल्लर साहब के बारे में सुना और उनसे होम्योपैथिक दवाई एक महीने ली थोड़ा आराम मिला और फिर छह महीने की दवाई से बिलकुल ठीक हो गयी डॉ कुल्लर मेरे लिए भगवान् हैं उनका धन्यवाद् जो मुझे नया जीवन दी दिया अब मैं बिलकुल ठीक हूँ मधु शर्मा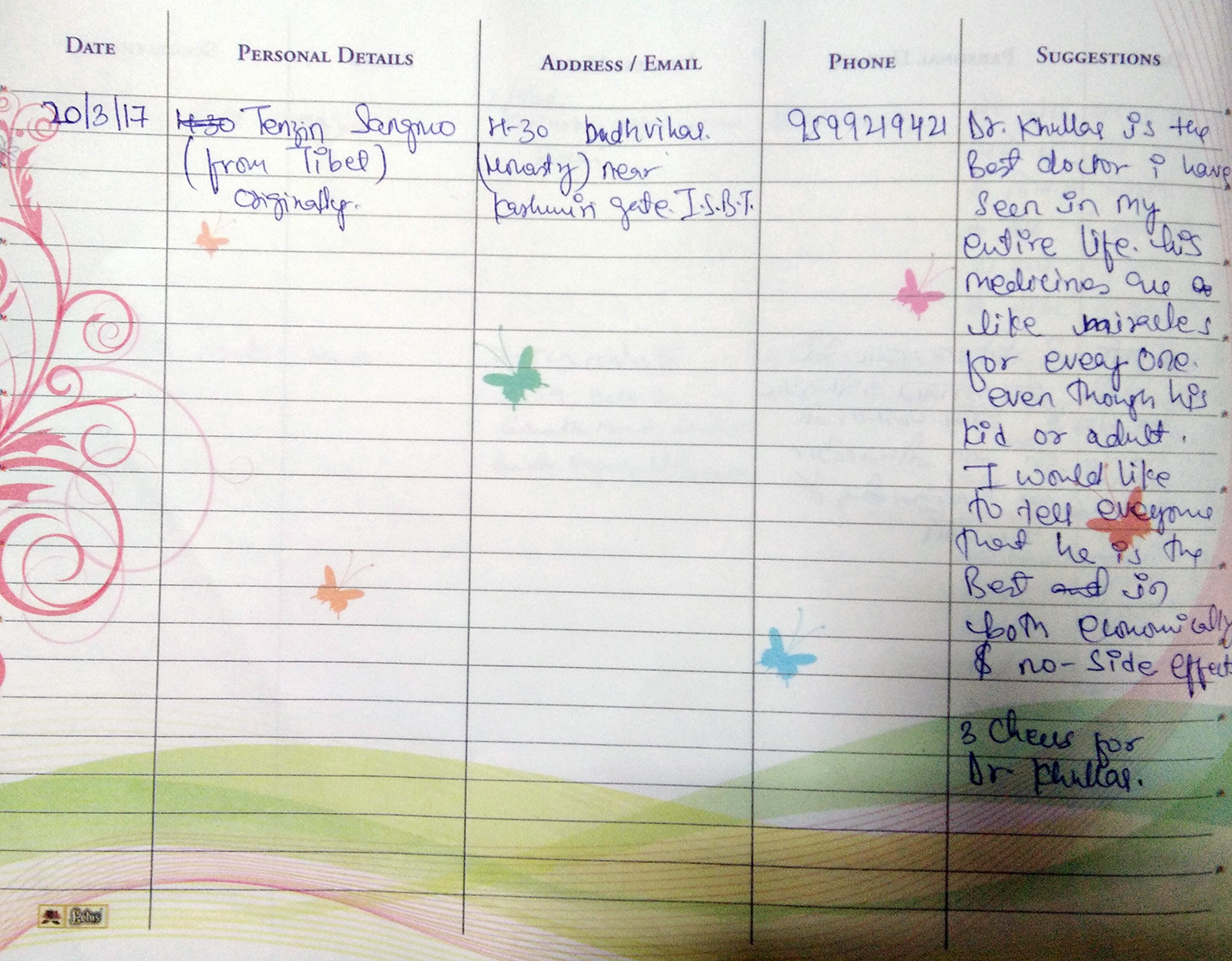 | | | | | |
| --- | --- | --- | --- | --- |
| 20.03.2017 | Tenzin Sangnoo (from Tibet originally) | H-30, Bidh Vihar (monastery) near Kashmiri Gate ISBT | 9599219421 | Dr. Khullar is the best doctor I have seen in my entire life. His medicines are like miracles for everyone. Even though his kid or adult. I would like to tell everyone this he is the best in both economically & no side effect. cheers for Dr. Khullar |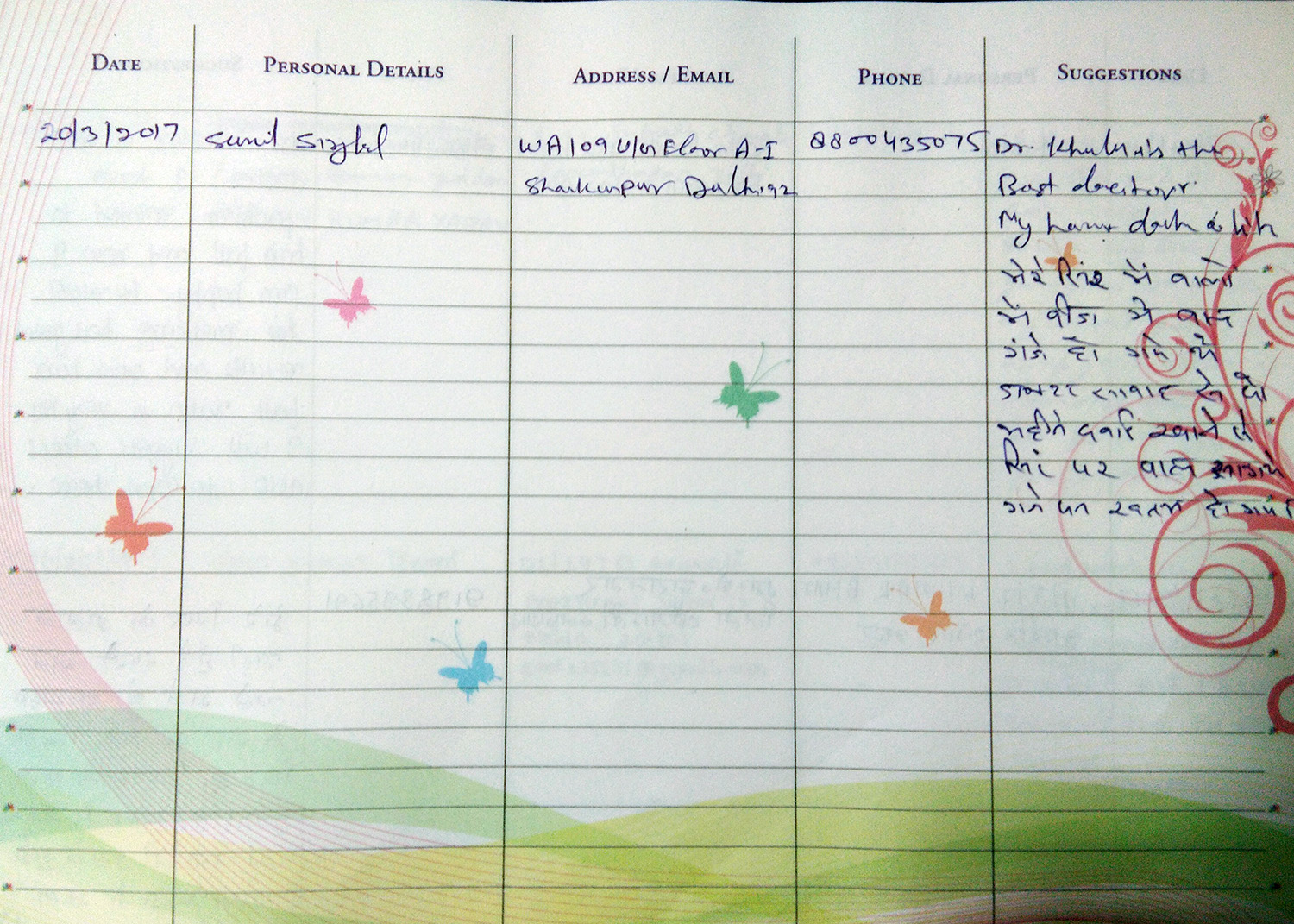 | | | | | |
| --- | --- | --- | --- | --- |
| 20.03.2017 | Sunmit Singhal | WA 109 U/G A-I shakarpur Delhi-92 | 8800435075 | Dr. Khullar is the best doctor for my hair. मेरे सिर के बाल गंजे हो गए थे डॉक्टर साहब से दो महीने दवाई लेने के बाद सिर पर बाल उग आये और गंजापन ख़त्म हो गया |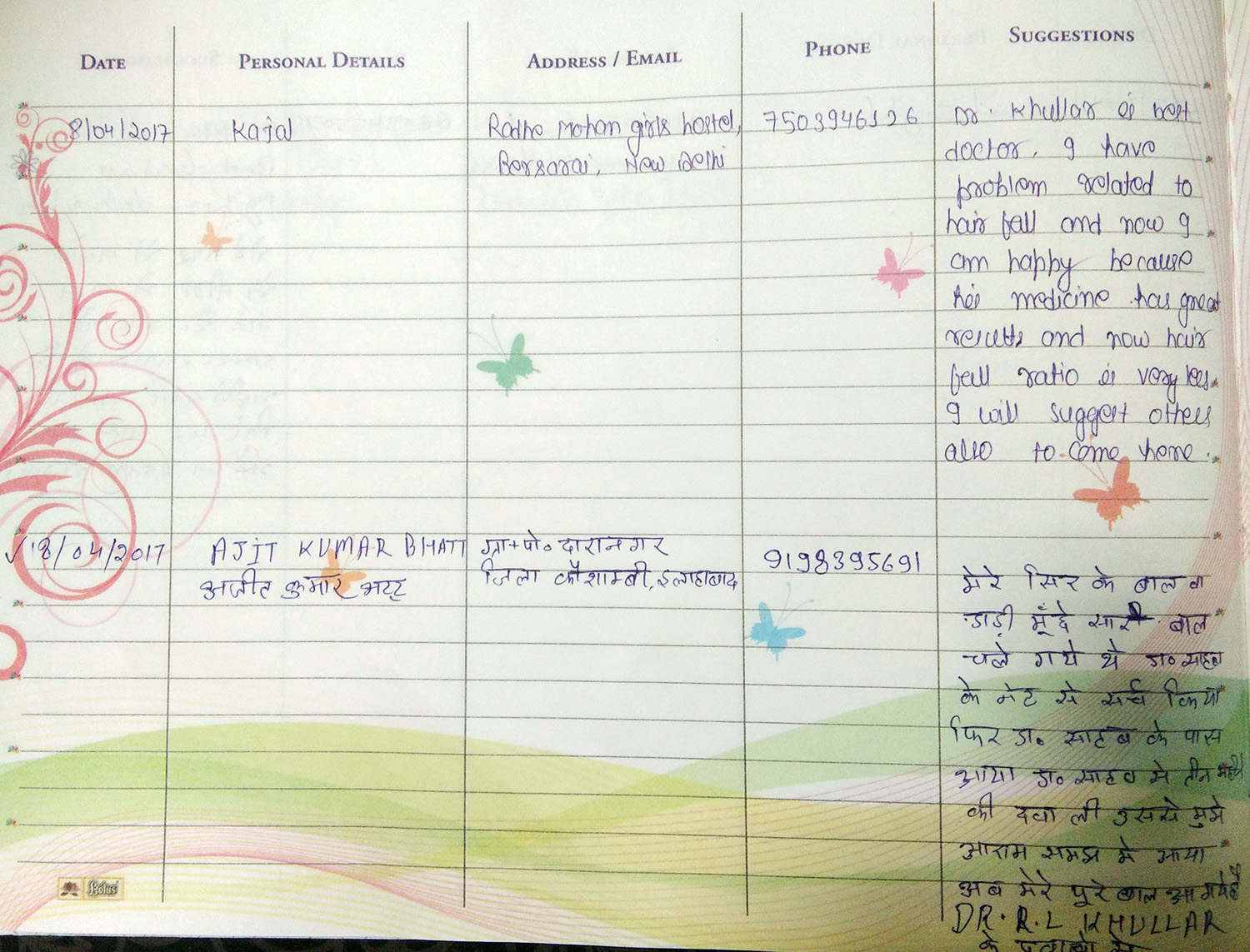 | | | | | |
| --- | --- | --- | --- | --- |
| 08.04.2017 | Kajal | Radhe Mohan Girls Hostel, Ber Sarai, New Delhi | 7503946326 | Dr. Khullar is the best doctor. I have problem related to hair fall and now I am happy because of his medicine has great results and now hair fall ratio is very less. I will suggest others also to come here. |
| 08.04.2017 | Ajit kumar Bhatt | ग्रा + पो दारानगर जिला कौशाम्बी इलाहाबाद | 91983959691 | मेरे सिर के बाल व दाढ़ी मूंछे सारे बाल चले गए थे डॉ साहब के नेट पर सर्च किया फिर डॉ साहब के पास आया डॉ साहब से तीन महीने की दवाई ली उससे मुझे आराम समझ में आया अब मेरे पूरे बाल आ गए हैं डॉ खुल्लर की दवाओं से |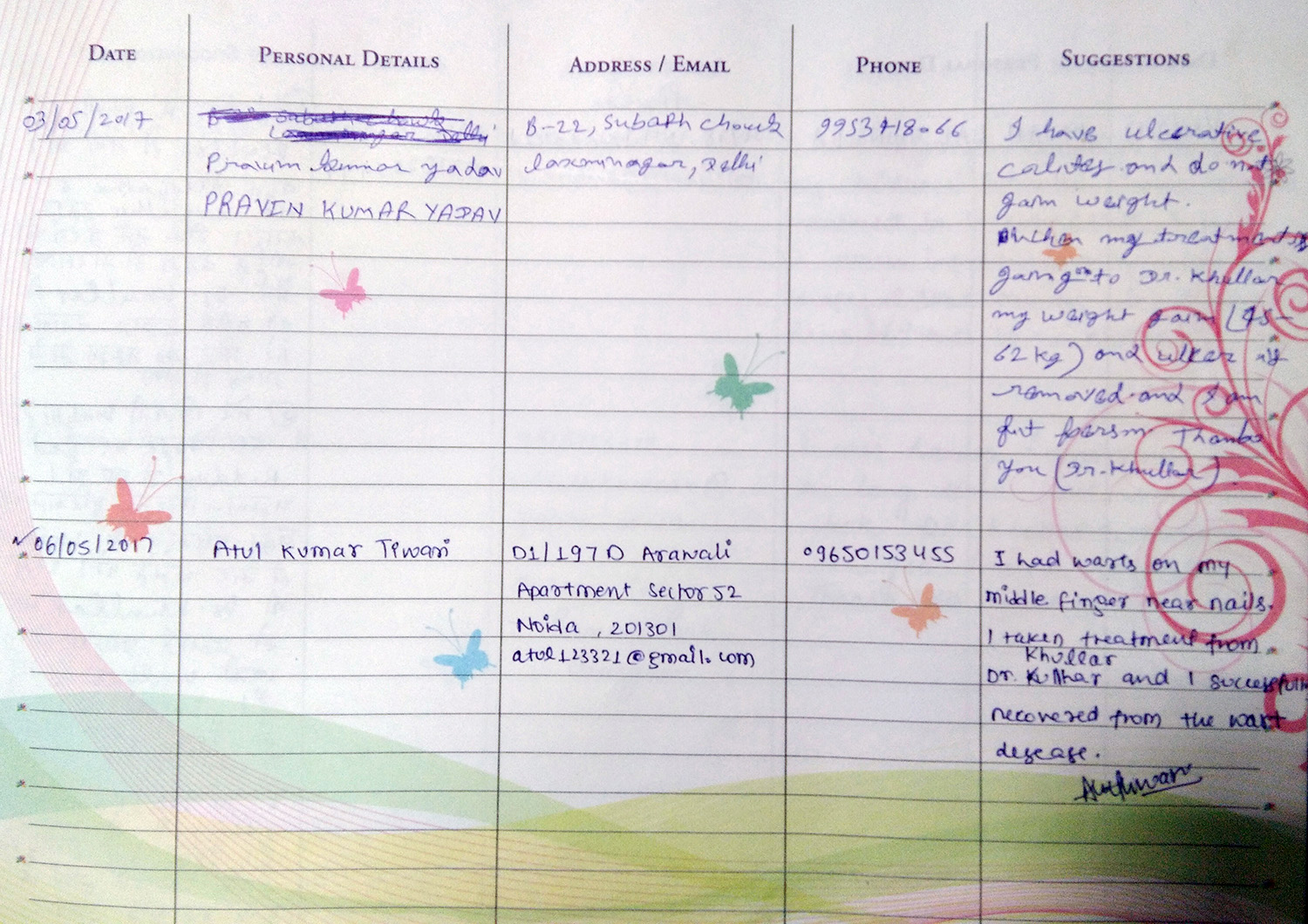 | | | | | |
| --- | --- | --- | --- | --- |
| 03.05.2017 | Pravin Kumar Yadav | B-22 Subhash chowk, Luxmi Nagar , Delhi | 9953418066 | I have ulcerative callosity and do not gain weight. After my treatment going toDr. Khullar my weight gain (45-62kg) and my ulcer is removed. Thank you Dr. Khullar |
| 06.05.2017 | Atul Kumar Tiwari | 01/1970, Arawali Apartments Sector-52, Noida 201301 | 09650153455 | I have warts on my middle finger near nails. I have taken treatment from Dr. KhullarI successfully recovered from warts disease. |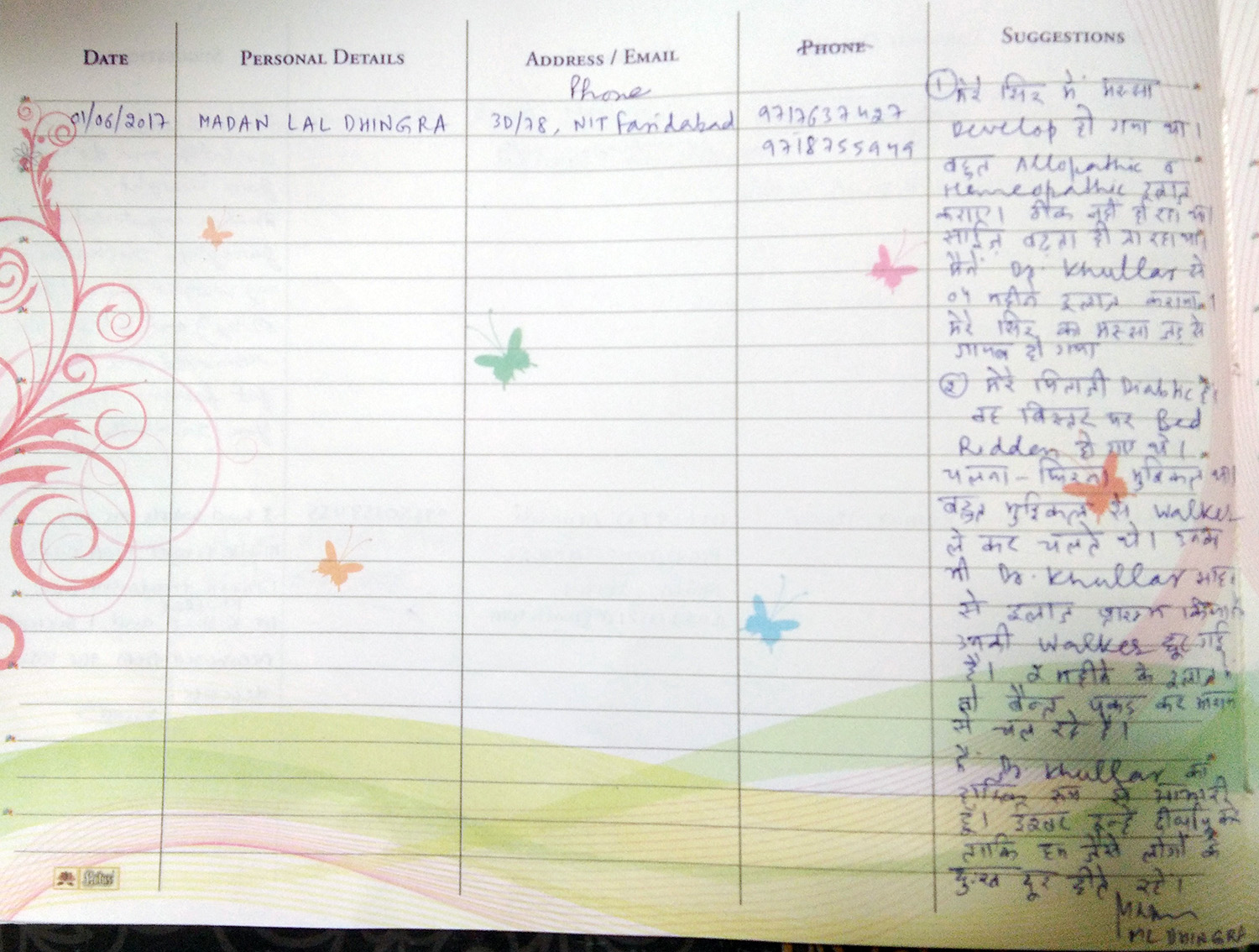 01.06.2017

Madan Lal Dhingra

3D/78 NIT Faridabad

9717637427
9718755949

मेरे सिर में मस्सा develop हो गया था बहुत Allopethic homeopathic इलाज कराये ठीक ही नहीं हो रहा था size बढ़ता ही जा रहा था मैंने डॉ खुल्लर से 4 महीने इलाज कराया मेरे सिर का मस्सा जड़ से गायब हो गया
मेरे पिताजी डाइबिटिक हैं वह bed ridden हो गए थे चलना फिरना मुश्किल हो गया था बड़ी मुश्किल से walker ले कर चलते थे उनको भी डॉ खुल्लर से इलाज प्रारम्भ किया walker छूट गयी दो महीने के इलाज के बाद आराम से चल रहे हैं डॉ खुल्लर को हार्दिक रूप से आभार ईश्वर उन्हें दीर्घायु दे ताकि हम जैसे लोगों के दुःख दूर होते रहें.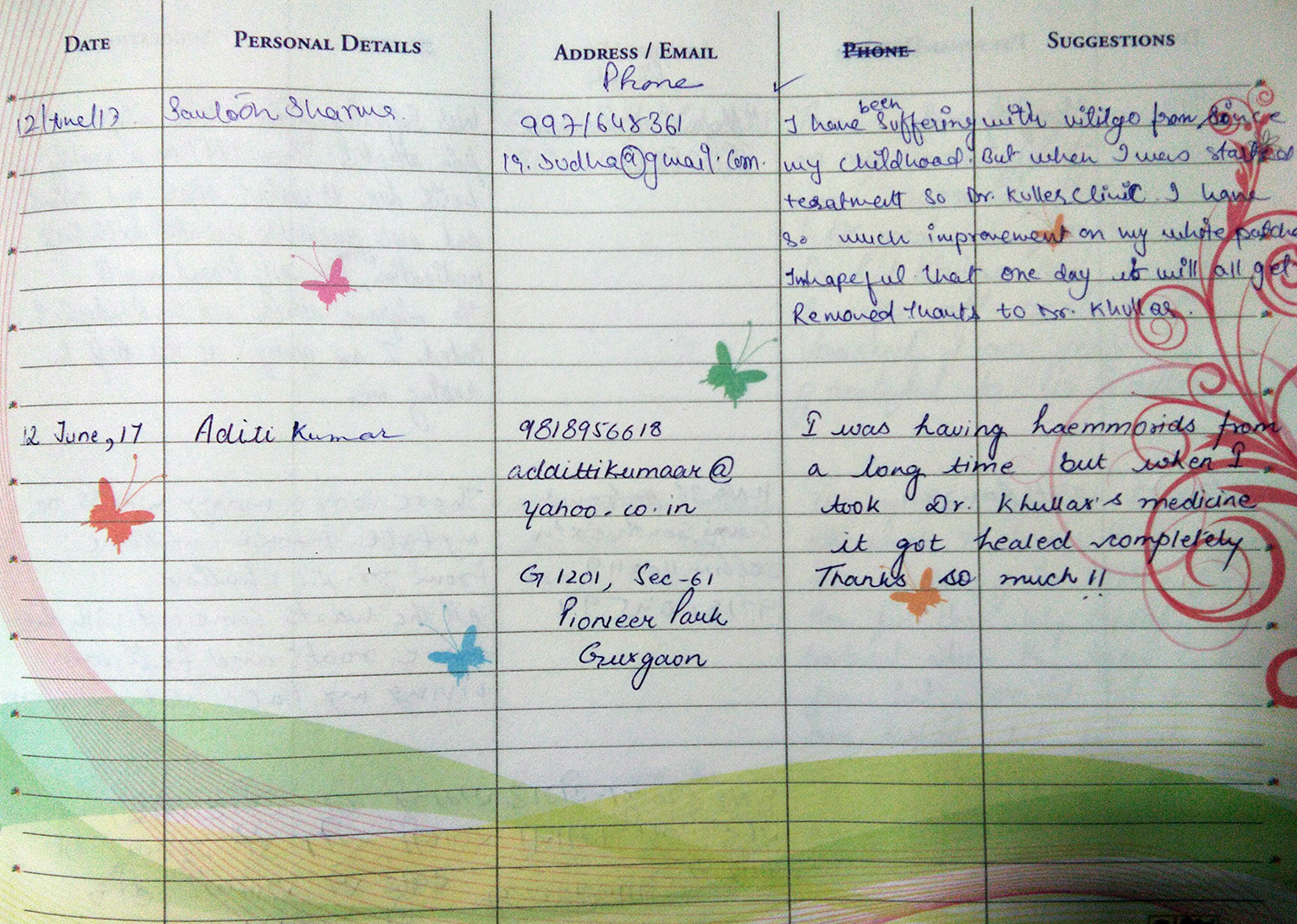 12.06.2017

Santosh Sharma

19.sudha@gmail.com

9971648361

I have been suffering from vitilgo from since my childhood. But when I was stated treatment from Dr. Khullar I have so much improvement on my white patches I am hopeful that one day it will all get removed thanks to Dr. Khullar

12.06.2017

Aditi Kumar

addittikumar@yahoo.co.in
G-1201, sec -61 Pioneer Park Gurgaon

9818956618

I was having hemorroides from a long time but when I took dr. Khullar's medicine it got healed completely. Thanks so much!!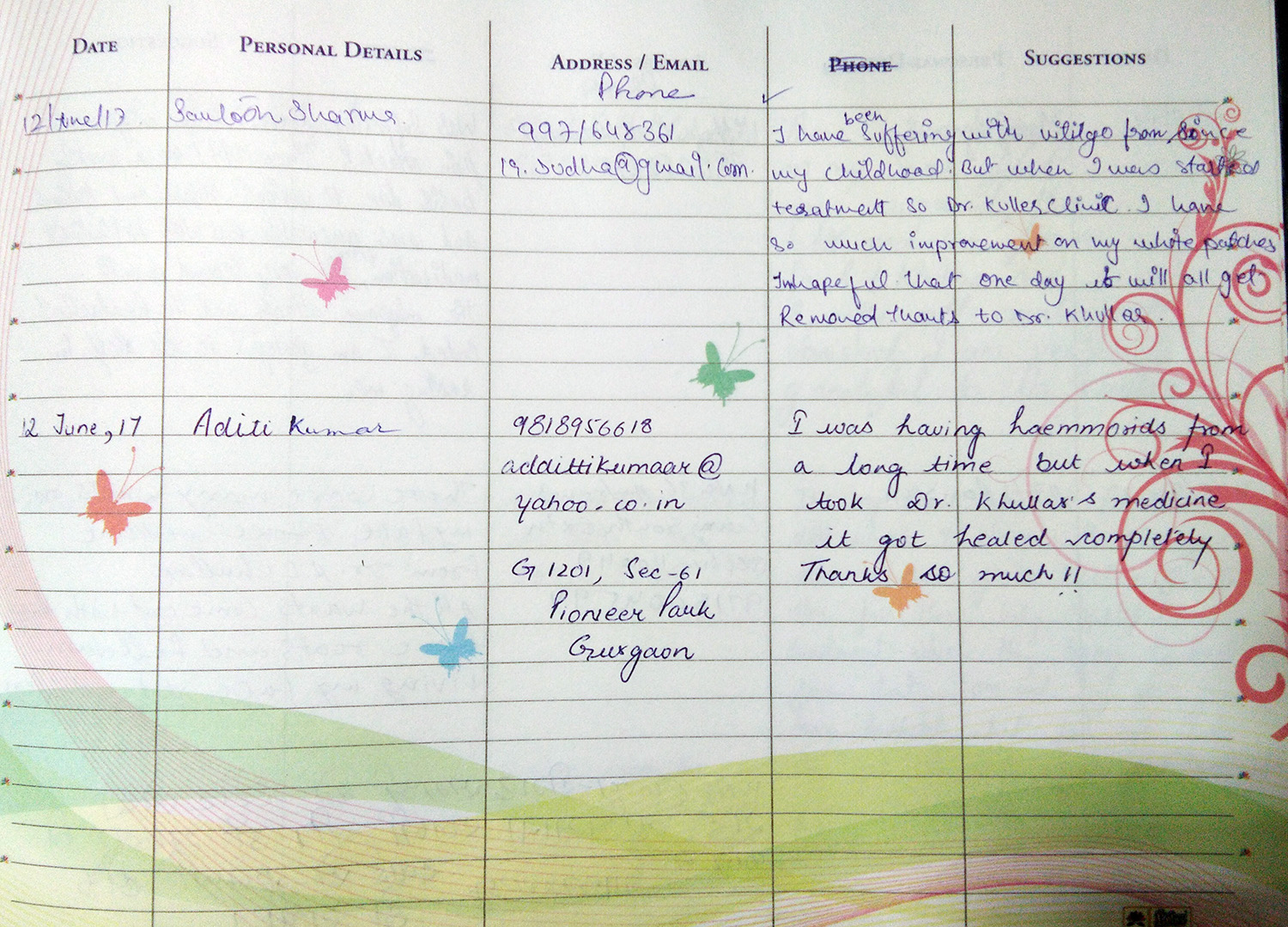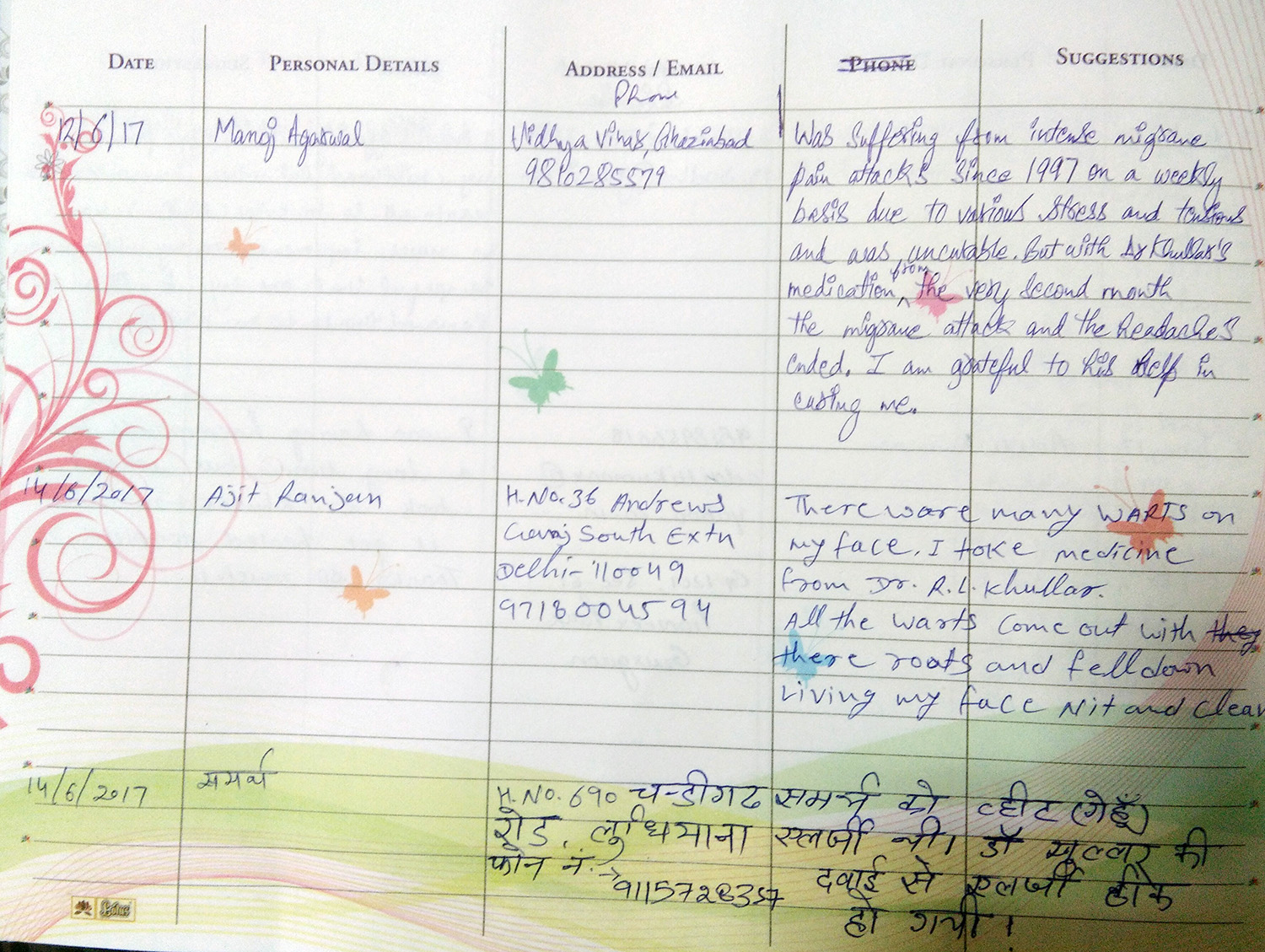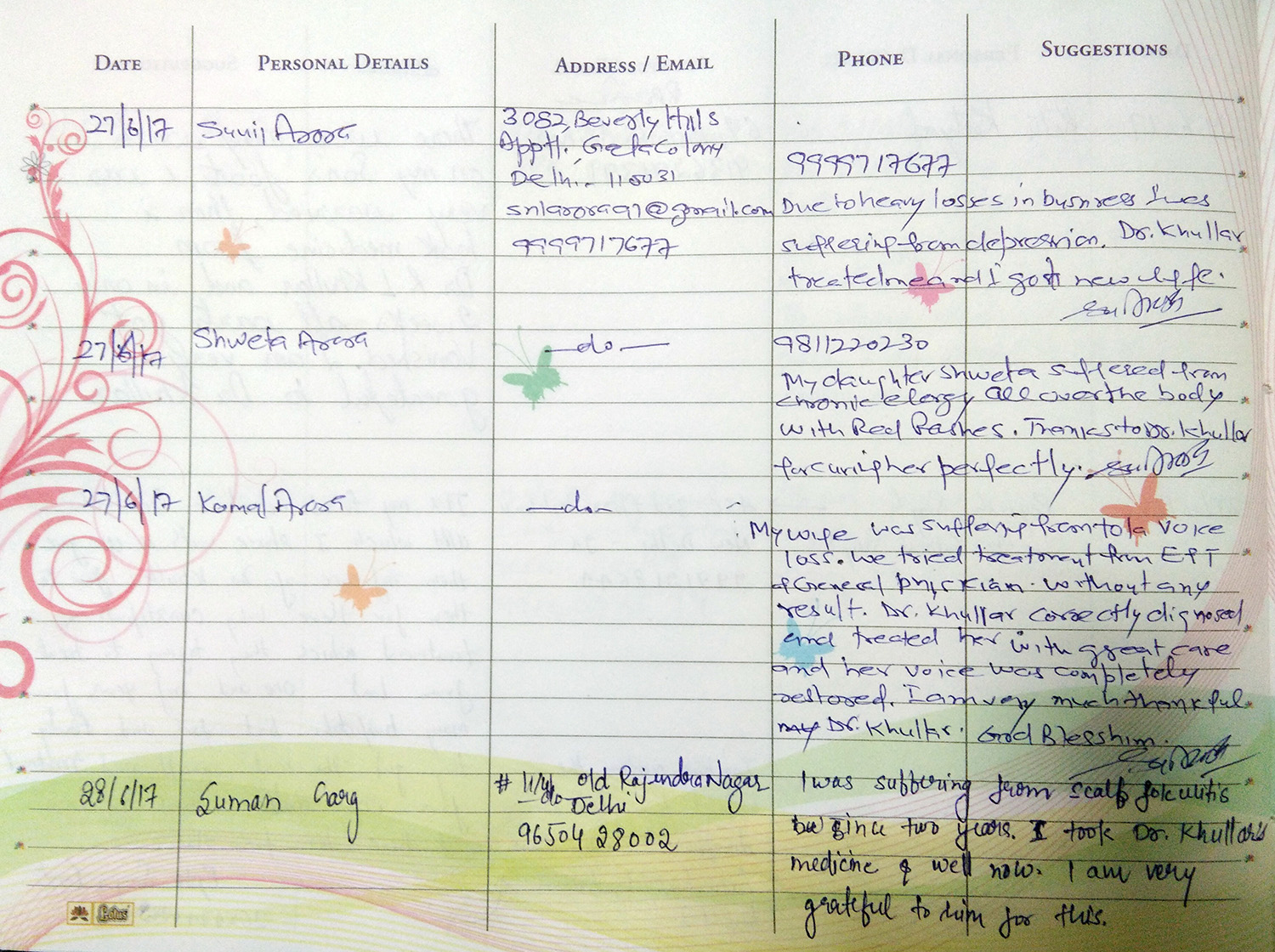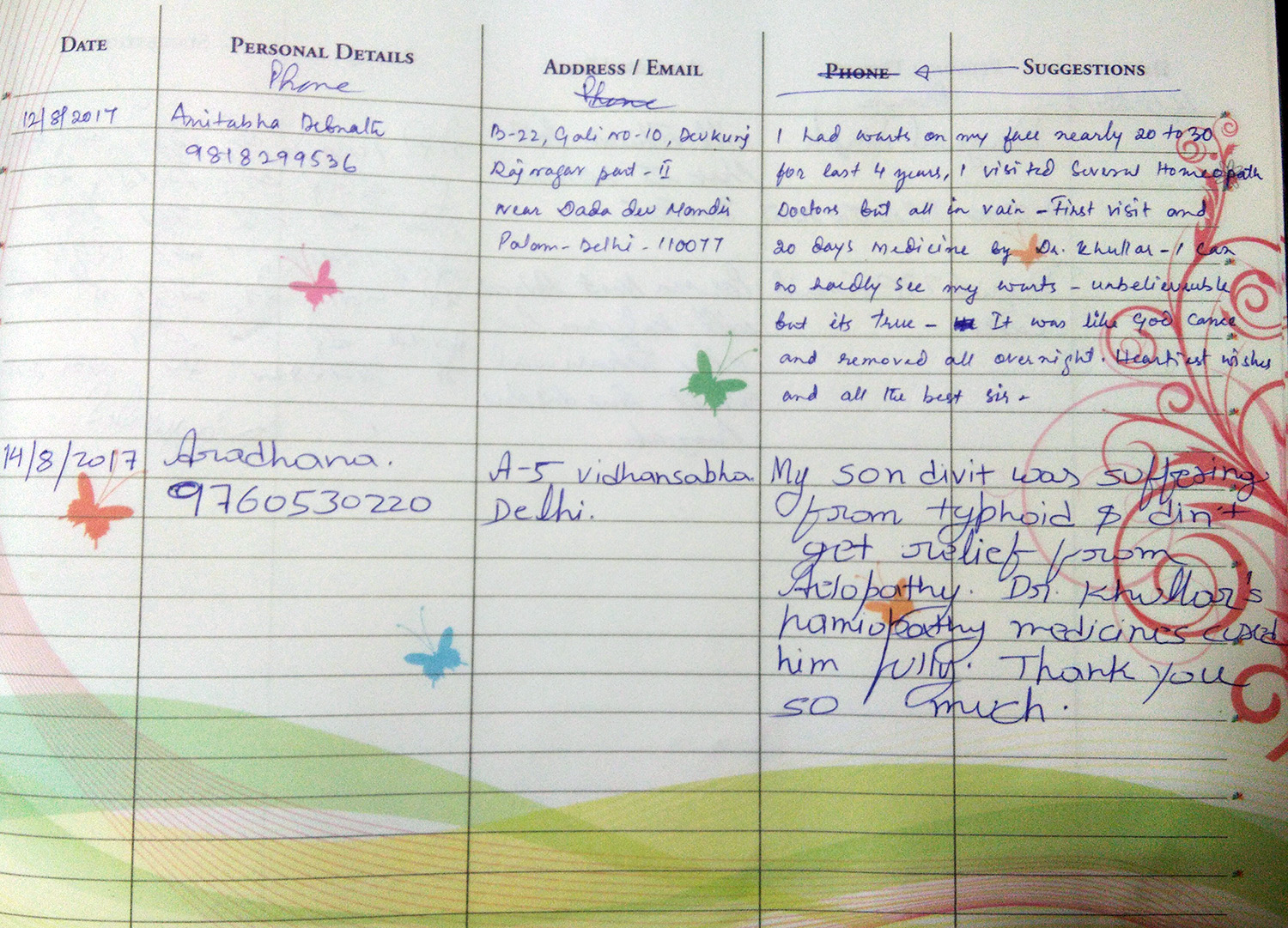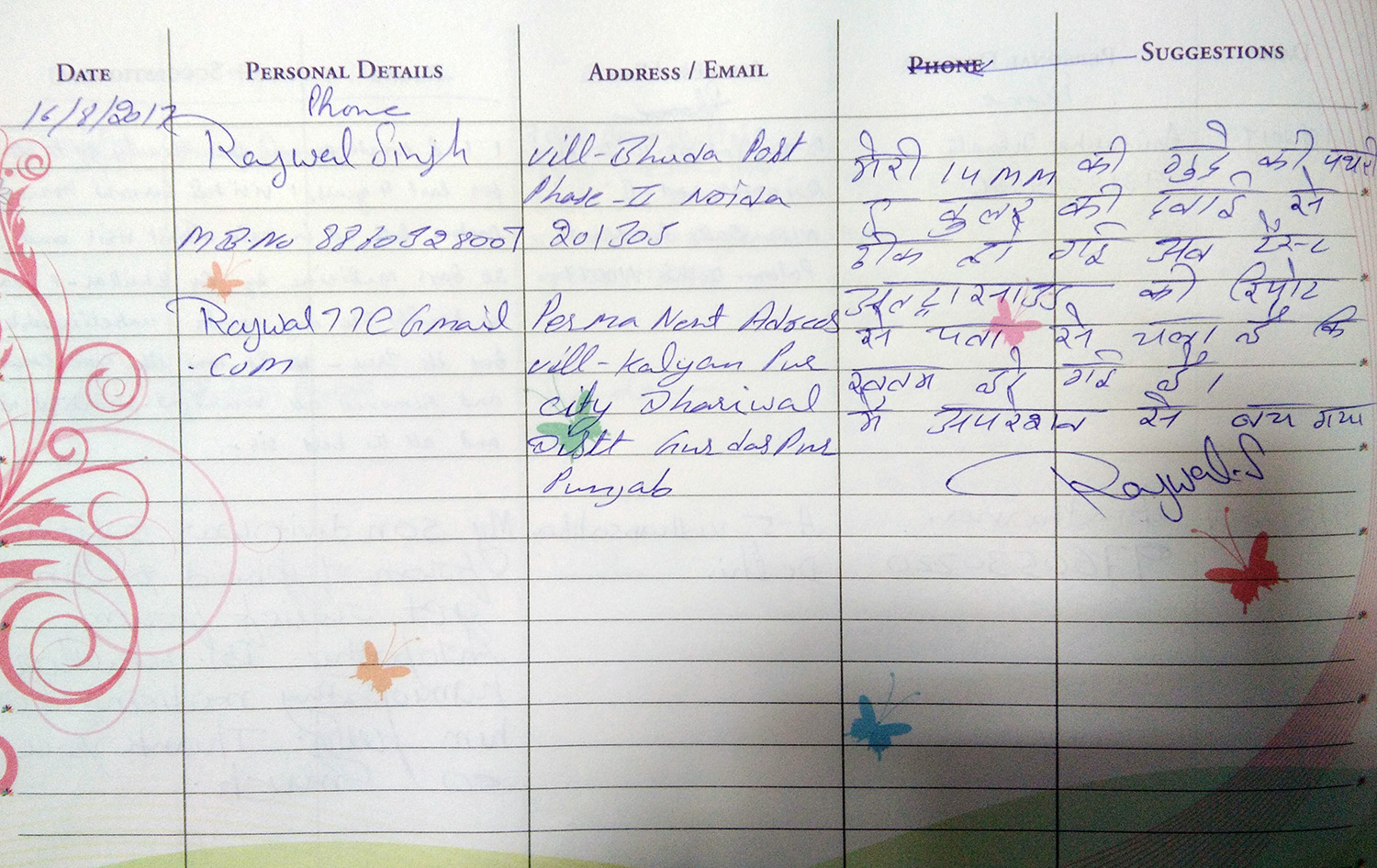 Hi Dr, Can I get by electronically way any copy from any of your books? Thanks in advance and regards from Mexico.
Ramon Sanchez
---
Dear Dr. Khullar,
Good work. Making easy for others to understand and use in practice. Please continue similar More.
Dr. Shashi Mohan Shrama
---
Respected Sir,
Thank you for sending me anxiety documents. Sir it's a great work and very helpful for all, especially for beginners. Sir, I am highly obliged if u send me more documents like this. Sir, I request to include one difficult case, one rare or common remedy with significant symptoms.
Dr. GauravVerma
---
Dear Dr. Khullar
Very good work.I love to receive it .Hope you make it available for the students.
Roger
---

Dear Dr. Khullar
Nice to hear from you after a very long time. Your complication on Anxiety is really very good. Keep up the good work. I would appreciate that you log on to my website www.ovihams.com also and send me your feedback and suggestions also.
With best wishes
Dr. A.K.Gupta
---
Dear Dr. Khullar
As per the work received, I'd like to congratulate you for the same. The work seems to be useful for the Homeopathic Fraternity, as the symptoms are obviously present in various repertories, but in a scattered format. Your work will be useful, as all the concomitants are readily in a comprehensive and arranged format.

So, I recommend you to kindly take the step ahead in the publishing of the book. If you would like to pursue this in an e-learning format, I recommend you to kindly contact the team of B. Jain and Radar, so that they can include your precious work in their esteemed software and e –learning project named "ENCYCLOPEDIA HOMEOPATHIC.
My regards are with you always and waiting in anticipation for your work.

Prof. (Dr.) PankajAggarwal
---
Dear Dr. Khullar
Sir it will be my great pleasure to receive and to learn from your wonderful research work. Sir please kindly forward your research work, looking forward to your mails.
Dr. PrasunBandyopadhyan
---
Dear Dr. Khullar
You have done a great job with big efforts. I appreciate it.
Dr. BrajeshSrivastav
---
Dear Dr. Khullar
You are doing great job. Keep it up and please keep sending updates.
Muktinder Singh
---
Leave a Reply, And Voice Yourself
Your email address will not be published. Required Fields are marked*